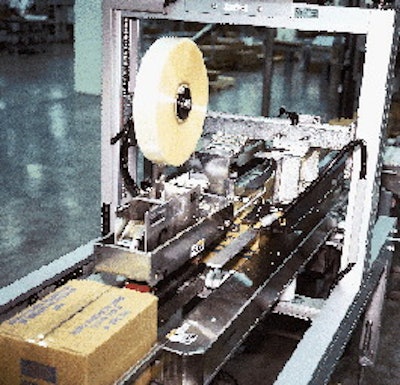 In specifying a case taper for Amway's new personal care line, a snafu with the original supplier required Amway's mechanical engineer Joe Sejat to quickly locate a different machine from another manufacturer.
He chose a unit from Belcor (Richmond, B.C., Canada) based on some literature he had collected. After a successful month-long trial, Amway ordered the taper, which Belcor expeditiously provided.
On the packaging line, filled but unsealed cases are conveyed into the case taper, which tucks the minor and major flaps and applies pressure-sensitive tape across the top.
As Amway's first case taper from Belcor, it's generated a lot of interest, says Sejat. "Everyone's amazed at how simple it is," he says. "Our safety department likes it because it doesn't have a guillotine tucking arm for the trailing minor flap, which is always a concern."
He continues, "It's nice and compact, a foot and a half shorter in length and it's about sixty percent of the cost [of the taper originally specified]."