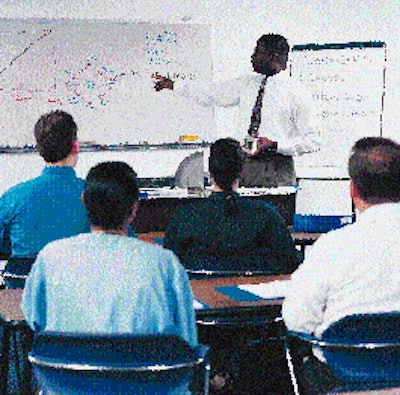 Training plant personnel is like eating broccoli. You know you should be doing it, but seldom are you motivated to act. Besides, everything's fine without it, right? Well, maybe not.
Consider the following stories:
* Joe King, technical training services manager at training consultancy General Physics, tells of a spice packer whose packaging line was operating at only 62% efficiency. Reason: a lack of communications among plant personnel and no official procedures for changeovers. After just two hours of training that focused on how an operator's individual actions affect the rest of the line, efficiency soared to over 80% within a month.
* Nancy Cobb, human resource development manager at Nabisco's Chicago cookie bakery, has greatly expanded the operator and mechanic training for new line startups. "The last three production lines that we put in, our start-up curve has been far superior to anything we've ever had before," she says. Its most recent line startup, consisting of overwrapping single-serve Oreos, reduced the startup curve by 50%.
* Patrick Helm, president of training services firm Metsys, relates his favorite horror story about a lack of training. "I gave one customer a proposal for a $150ꯠ training program on a job with all custom equipment. He told us, 'We don't need this crap!' and threw the proposal on the floor and walked out. The line never did run. The incident took place six months ago and they're still struggling."
Packaging lags
Certainly the consequences of whether or not to train are seldom so pronounced. But packagers in particular need to heed the training call, according to King. "In packaging, training has been treated as an afterthought," says King. "This may be due to the relative simplicity of the task, and because in the past it's been so labor-intensive, so manual, so repetitive."
While equipment suppliers typically provide training with the purchase of equipment, such training doesn't always match the needs of the packager, according to Nancy Cobb. This problem is being addressed. Nabisco and other manufacturers like Kraft, Hershey and Eastman Kodak have been working with packaging equipment vendors and the Packaging Machinery Manufacturers Institute to establish an industry-wide specification for training and documentation for packaging machinery.
Ostensibly, a training specification would make training much more uniform, and would more closely match the needs of buyers of packaging machinery. "If we get together as an aggregate," says Cobb, "which we're doing through PMMI, we're saying to all vendors that this will be an industry-wide expectation. So it's not just a Nabisco or a Kraft expectation anymore." The completed specification was rolled out at PMMI's annual fall meeting.
On-line support systems
Reducing some of the burden on operators and mechanics to learn everything about a machine are on-line help systems. Embedded right into the operator control system, they often contain the content from the operations manuals. Operators and mechanics at Nabisco's Chicago bakery, for example, can call up schematics, part numbers and training information.
However, these support systems are not a substitute for actual training, argues Debra Rapone, director of education at PMMI. "I'm very much in favor of on-line support. But I don't think it replaces hands-on mechanical/technical training. And those are the skills that are lacking, based on what we're hearing from packagers."
More solutions
One huge resource for training packaging mechanics and operators is PMMI itself. Not only does it have 21 self-instructional courses that are often used for packaging curriculum, the trade group is tied into an extensive network of vocational schools across the country that do contract training.
"Packagers aren't investing the money in the formal training that's really necessary to move operators and mechanics people to the next level," says Rapone. "What we hope is that the training will be put in the hands of those equipped to do it in a low-cost effective manner, which are the schools." PMMI is affiliated with almost 10 such vocational school training programs across the country, with the latest being a mechanic/ technician training program at Pinellas Technical Centers (PTEC) in Largo, FL.
What are the factors to consider in putting together a training program for packaging mechanics and operators?
Nabisco's Nancy Cobb recommends working closely with vendors on training right from the beginning, not treating it as an afterthought. "We actually interviewed vendors' trainers, and there were some we really didn't want. We are becoming more demanding, but the beauty is that we've been doing it together, and we've been up front with them. I'm seeing a tremendous difference [in the quality of training]."
Also consider existing skill levels. "When you select a technology, can your workforce handle it?" asks Metsys's Helm. "If not, how are you going to bring their knowledge base up?" He hypothesizes about a plant accustomed to clutch and brake equipment that purchases its first servo-driven machine, only to find the training costs for packaging mechanics overwhelming. "Sometimes you may be better off staying with clutch and brake and not spending thousands on training," says Helm.
Now more than ever, Rapone says, packagers need to respond to the training call. "With increasing automation, worker skill levels often don't match the jobs that are available. There are a lot of operating per-
sonnel with elementary and junior-high school education, who are running half-million dollar machines. It gets a little bit scary."
Companies in this article