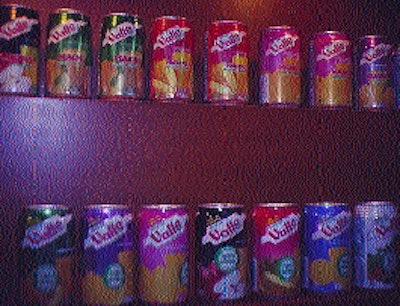 The value of the peso and Mexico's entire economy remains in trouble as we go to press. But at least one juice packer there has signed on for the long term. Jugos del Valle, Mexico City, that country's largest juice manufacturer, is strongly pursuing improved productivity and modernization that will enable the company to aggressively compete on both sides of the border.
Jugos recognizes that open North American markets create both opportunities and obligations. To export into the U.S., the company knows it must create packages familiar to U.S. consumers. To continue to dominate the Mexican juice market, the company must stay ahead of other Mexican manufacturers-and compete effectively with U.S. companies now exporting into Mexico.
"We have always been the innovator in our industry. During the last couple of years, we have increased capacity and modernized our operations. We now use the latest technology to help assure our position as the number one manufacturer in Mexico with what we feel is the best product on the market," says Roberto Albarran C., director general at Jugos del Valle.
Much of that modernization was made necessary by company sales increases of 20% per year for juices, nectars and fruit drinks over the last three years. And, says Albarran, the company expects that growth rate to continue for the next several years, until the turn of the century at least.
Export to expand
Like other companies operating in countries with an unstable monetary system, Jugos felt that U.S. sales could deliver the currency resources that would pay for its expansion.
"The decision to export into the U.S. met a strategic objective to bring hard currency in the operation to help fuel our expansion and modernization," says Albarran with candor. A few years ago, the company unsuccessfully tried to take its Mexican product into the U.S.
Jugos' juices were then packed in three-piece steel cans in a full corrugated case. That was the typical package in Mexico. After a short period, the company concluded that this package was "difficult to market in the U.S." and it abandoned its efforts. While it felt the product met consumer standards in the U.S., it discovered that its primary and secondary packaging was an obstacle.
That's when the company made a major commitment first to aluminum cans, and secondly to overwrapped trays of those cans. Lightweight aluminum cans with nitrogen injection for support creates a can with minimal headspace. The lack of headspace helps ensure both the flavor and the freshness of Jugos' product.
"Our consumers recognize the advantages of the aluminum can," reports Albarran. "It produces a better tasting product because the nitrogen dosing creates a vacuum to reduce headspace. That preserves the flavor of our product." Since it adopted the aluminum can in '93, sales of canned products have grown by about 80% per year.
Jugos currently fills only 335-mL aluminum cans (equivalent to 11.3 oz). It also packs its products in aseptic cartons, glass bottles and into high-density polyethylene bottles that the company blow-molds on site.
Moving into traypacks
Regardless of its primary container, Jugos has found its move from corrugated boxes into shrink-wrapped trays has helped marketing both in Mexico and abroad. Its program of tray wrapping both aluminum cans and glass bottles brings customer benefits on both sides of the border.
What has made traypacks so attractive to Jugos? There are several factors involved. On one hand, shifting from corrugated boxes to shrink-wrapped corrugated trays have helped Jugos deal with the rising costs of paper, since the film used reduces the need for corrugated paper. Why is the film cheaper? Partly because the company has invested in a nearby extrusion line that makes film for overwrapping. The line makes a low-density polyethylene in a 1.35-mil thickness.
In addition, the company has installed high-output tray wrappers from Arpac L.P. (Schiller Park, IL) both in Mexico City and at its new northern plant at Zacatecas. Albarran says he feels that a corrugated tray overwrapped in transparent film enhances the perception of the quality of the product.
Serving club stores
The shift to trays was originally orchestrated by Jugos' desire to become a major supplier to the burgeoning club store marketplace in Mexico.
The club stores are major customers of Jugos juices and drinks in wrapped trays that feature an assortment of four flavors in 355-mL glass bottles. The club store growth may have stalled, but this market still represents some 100ꯠ trays/month to Jugos.
Glass is the dominant single-serve container in Mexico for these products. In part that's because most beverages are consumed on-premise in Mexico, as opposed to in the home.
While the spending habits of most Mexican consumers prevent them from buying 24-bottle trays at club stores, the tray packs are also popular with distributors that serve the thousands of small retailers. Drivers can easily open the film wrapping to custom-mix a tray of flavors that meet the inventory needs of space-conscious shops.
Packed for productivity
The Mexico City plant packages its single-serve drinks in glass and cans on lines that range in speeds from 360 cpm up to more than 500 containers/min. And the tray wrapping equipment is designed for high-speed, high-volume lines that run three shifts, six days per week.
When its single-serve glass line is running, the Model 105T tray wrapper and shrink tunnel can operate at speeds of up to 36 tray/min. The tray wrappers replaced semi-automatic case packing equipment that wasn't particularly efficient.
"Line stoppages were common at that stage of the operation," Albarran reports. "And when you're running at full capacity like we are, lost productivity results in cases you can't make later. Sales were lost." The tray wrappers "were among the first steps taken toward modernizing and cost reduction, and we are continuing to add more Arpac wrappers to our lines," says Albarran. Thanks to its success in Mexico, Arpac recently opened an office in Mexico City with a service technician and spare parts.
Thus far, the managing director says, the heavy-duty wrapping equipment has required a minimum of maintenance. In fact, the company hasn't used spare parts they purchased with the first line five years ago. The quick-disconnecting seal bar and the pull-out drawer for the tunnel heater element help make equipment maintainance easy. And the simplicity of the machine speeds operator training.
The tray shrink wrappers at Jugos are the "most productivity-enhancing element we have added to our lines, and they have added to our profitability," Albarran says. Material costs have decreased due to the use of film. Shrink wrapping provides a pilfer-proof and clean package at relatively low cost.
In Mexico, low labor costs have allowed many processors to avoid automation and its associated capital expenses. But Jugos del Valle takes a larger and longer view of its business. "Some years back, modernization meant you had to justify the expense of equipment as a substitute for the cost of manpower," explains Albarran. "As our country becomes a global marketer, increased productivity requires more automation. We consider the cost of reduced productivity to be more expensive than the cost of labor."
The move to automation has not been limited to the three Arpac tray systems. The Mexico City plant also added an automatic palletizer from Columbia Machine (Van- couver, WA) and an automatic pallet load stretch wrapper from Lantech (Louisville, KY). In the warehouse, the company has installed a new racking system.
"We have recently installed 'drive-in racks' that were manufactured here in Mexico," says Enrique Lechuga, director of operations at Jugos. "The concept is that the loaded pallets are placed into tracks spaced four high on one end of the warehouse. The tracks are slightly inclined so that each pallet slides to the opposite end of the warehouse where loaded pallets are removed as needed.
"This assures a first-in, first-out inventory. That way we assure maximum product freshness so the best possible product reaches our customer," Lechuga points out. That's true whether the customer is across the street or across the border.
Companies in this article