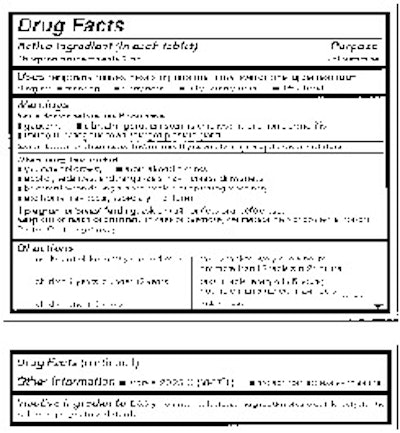 Over-the-counter (OTC) drug packagers might want to tell their label and package design experts to get their heels moving. Many packagers will be required to use new packaging graphics by April 16, 2001. The two-year race to develop the new "Drug Facts" label mandated by the U.S. Food & Drug Administration is underway.
Developing the labels won't be cheap, particularly if packages have to be resized. A packaging engineer at Whitehall-Robins, Inc., Madison, NJ, who asks not to be identified, says there is no question that packages for many of that company's 400 to 500 SKUs will have to be upsized.
That is because one of the requirements for the new "Drug Facts" label is that body type be a minimum of 6 points in size. The current minimum is 41/2 points. There just isn't enough room on many of the Whitehall product labels for putting the existing copy in 6-point type. "We could downsize the name of the product, or cut some of the promotional copy," says this executive wryly, "but the marketing people aren't too thrilled about that possibility."
WR is looking at creating a fifth panel for its packages. The problem, Packaging World is told, is that the company's cartoning machines cannot be adapted to make a five-panel carton. So WR would have to buy new equipment. Moreover, cartoning machines that erect and fill the five-panel cartons typically run more slowly than conventional cartoners.
Many other OTC companies will have to get out the magic packaging wand. After the FDA proposed this rule and asked for public comments, the Consumer Healthcare Products Assn. (formerly the Non-prescription Drug Manufacturers Assn.), which represents the major OTC manufacturers, estimated that 33% of brand-name products and 95% of private-label products would have to revamp packaging in some way.
One company suggested that a new packaging line to accommodate a label change for just one product line would result in a one-time equipment expenditure of about $2.5 million (including equipment, installation, validation, depreciation of old equipment, facility renovation and inventory loss). Plus, they also estimate recurring costs of almost $500ꯠ for more expensive labeling.
The FDA apparently took those estimates as seriously as a Jay Leno joke. The agency had a consultant do a study of about 2꺜 SKUs in three Boston retail outlets. The consultant concluded only 6.4% of the SKUs would have to be repackaged.
Many packaging professionals are reaching for OTC antacids as they begin to digest the FDA final rule that was published on March 17. So no one knows whether the FDA's or the CHPA's estimate on packaging changes is closer to the truth.
Y2K again?
Of course, even if all a company has to do is redesign a label, that won't happen at the snap of a finger. Especially if the company is as big as SmithKline Beecham Consumer Healthcare, Pittsburgh, PA. Ron Jesiolowski, senior manager of imaging and design services at SB, says, "Complying with this rule is the equivalent of the Y2K problem for the pharmaceutical packaging industry. It is going to be crash and burn to accommodate this in the next two years."
SB has between 500 and 700 SKUs that will be affected, some of them for such venerable products as Tums(TM), Contac(TM) and Sucrets(TM). Adapting the Drug Facts label to those hundreds of SKUs will result in changes to about 1ꯠ printed components, including both labels and packages.
"The final rule comes across as being a bit more challenging than what we expected," says Jesiolowski. "We have some significant concerns. But we look forward to working with the FDA."
A packaging engineer for another company, whose product line is smaller than SB's, downplayed the impact of the FDA final rule. "We don't expect to have to increase the size of any packages," he says, "and we'll do everything possible to avoid that. We might have to increase some label sizes and that will mean some additional artwork and plate costs." He admits, however, that his expectation about not having to increase package size may depend on the FDA granting the company an exemption from the OTC rule.
Exemptions, which Jesiolowski also mentions as a route that SB will likely pursue, will be granted if a company can prove the Drug Facts label requirement is "inapplicable, impracticable or would be contrary to public health or safety."
The FDA final rule on OTC products affects all OTC drugs, including ones that have one leg in the cosmetics category such as sunscreen, anti-dandruff shampoos and hair restoration products. There is no question, even from those who have problems with some aspects of the final rule, that this new standardized OTC label, required to adorn most products by April 16, 2001, will be easier to read than current labels.
The new "Drug Facts" label mandated by the FDA will essentially contain the same information that appears on current labels. The label will have five or six sections (one is optional), each of which must appear in a designated order: active ingredients, uses, warnings, directions, other information (if appropriate) and inactive ingredients. The amount of copy in each section will vary from product to product, based on the FDA-approved monograph for that product. The FDA specifies minimum type sizes, acceptable typefaces, spacing between lines of copy, punctuation and much more.
Primary vs secondary
If a bottle or tube is packaged in an outer container, that container has to have the Drug Facts label. The primary package does not. There is one set of requirements for large packages, another for small. "Small" is defined as a package where more than 60% of the surface of the outer carton or primary package--whichever is the operative description--would be covered by FDA-required labeling. That would include both the Drug Facts label plus any other FDA-required information. In doing the 60% computation, the flanges at the tops and bottoms of cans and the shoulders and necks of bottles and jars are not counted as available copy space.
Among the concessions the FDA will make for small packages is allowing less space between lines of type or "leading." The leading may be adjusted so that the ascenders and descenders of the letters do not touch, rather than the 1/2-point leading required for larger packages. Also, bulleted statements may continue to the next line of text and need not be vertically aligned. Finally, the box or similar enclosure required may be omitted if the headings, subheadings and information that is required is set off from the rest of the label by color contrast.
The FDA is "encouraging" companies to put the Drug Facts label on both the primary package and the outer carton, when a product is sold in that configuration. "It is in the industry's interest to make those two labels as consistent as possible," explains Nancy Gieser, deputy director of the economics staff at the FDA. "That won't be an undue hardship for most products." However, the FDA is not requiring the two labels to be identical, nor is it planning to give a company "brownie points" for making the labels mirror images.
The big question for packaging people is whether there is enough room on a current product package for the Drug Facts label. The problem is created by the FDA requirement that all the type in the Drug Facts box be a minimum of 6 points high and that there be a minimum of 1 point of leading between the lines of type.
Although it came under heavy fire from industry for the 6-point-minimum standard in the proposed rule (many wanted a 41/2-point minimum), the FDA stood firm in the final rule. It made no changes. It emphasized surveys with various age groups showing that significant percentages would have difficulty reading 41/2-point type.
SB's Jesiolowski believes that the FDA failed to consider some important factors when it calculated whether packages could accommodate the new Drug Facts label. For example, the FDA in the final rule virtually dismisses the need for packaging redesign by saying companies could "extend a single side panel or widen the label affixed to a bottled drug product." Of course, even widening a package by adding 1/4" more paperboard would add major costs for a company. Perhaps even more important than those additional costs is whether the Wal-Marts, CVSs and Kmarts of the world would even give a particular product the extra shelf space to accommodate the slightly larger package. c