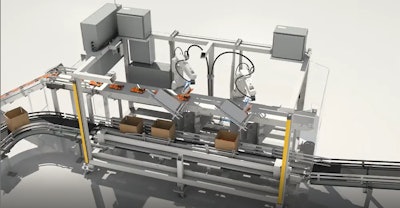 Quest Industrial will be demonstrating several solutions for flexible packaging and other applications in Booth N-5440 at PACK EXPO International, October 23-26, at McCormick Place in Chicago. Highlighting this year's show is an integrated flexible pouch packaging line involving Quest, Wexxar Bel, and Bartelt, all of which are ProMach brands.
The integrated pouch packaging line features a Quest Quik Pack QP200-AV2 robotic case packer and a Quest Box Bot QB333 robotic palletizer. The Quik Pack is a pick-and-place robotic case-packing solution optimized for products in flexible packaging. The versatile system can identify, orientate, and load a wide variety of package types into both retail and shipping-style secondary packaging containers.
The Quest Box Bot, a space-saving robotic palletizer with a small footprint, allows for highly customizable pallet patterns. Every Box Bot comes standard with QBox pallet building software that allows operators to create new pallet patterns based on the size of the case and pallet. The latest version of the standard Box Bot utilizes one of more than 24 standard designs to reduce complexity and lead times. Rounding out the integrated flexible pouch packaging line is a horizontal form/fill/seal (HFFS) machine from Bartelt, and a case erector and sealer from Wexxar Bel.
The integrated line begins when standup flexible pouches are produced and filled on the Bartelt horizontal bagging machine. The pouches then flow automatically to the Quest Quik Pack robotic case packer, which loads the bags into the case based on the case pack pattern configured through the QPack case packing software. Empty cases are supplied by the Wexxar WF-20 case former and sealed by the Bel 252 sealer.
The sealed cases are then picked up by the Quest Box Bot, which palletizes them based on the pallet pattern configured in the QBox palletizing software. The advantage this line delivers is high automation—the ability to accomplish several tasks in a very small footprint. By allowing robotic automation to do the work, labor challenges can be managed by reallocating employees into other areas of a plant or facility where their skills can be put to better use.
Companies in this article