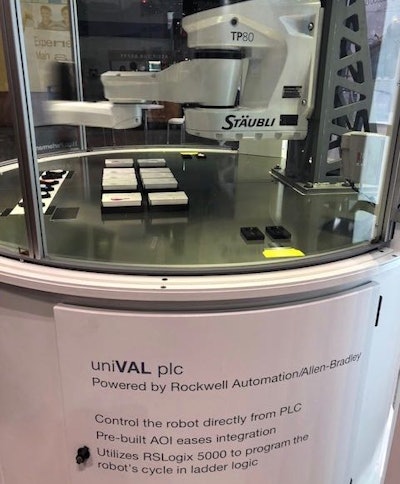 Staubli robots, known for use in food and medical processing and packaging as well as automotive, aerospace and energy, is extending its programming ability. The company's robots are based on proprietary controllers. However, Staubli has a robotic software driver, called uniVAL plc, that allows any of its robots to be programmed directly by an industrial PLC
This week at PACK EXPO International, the company announced that uniVAL plc now works with Rockwell Automation controllers.
"The purpose of connecting to Rockwell is to allow more people to be capable of programming it," said Sebastien Schmitt, Staubli's division manager for North America. "Everyone is looking for ease of use, faster programming and to maintain knowledge inhouse to get the most out of a product. This tool means they can program our equipment with something they already know," he said, noting that many engineers are already familiar with Rockwell PLCs.
The capability was on display with a TP80 fast-picker robot, which is well-suited for food, pharma, photovoltaics and cosmetic applications, the company said.
Companies in this article