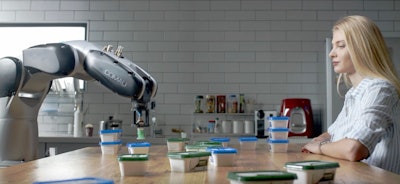 At the forefront of the fourth industrial revolution, or Industry 4.0, Artificial Intelligence (AI) and Machine Learning (ML) are currently two of the biggest trends in packaging robotics and automation. AI refers to software that is trained to perform a specific task, rather than being programmed. ML uses algorithms to automatically learn insights and recognize patterns from data, applying that learning to make increasingly better decisions.
According to a 2022 report from PMMI – The Association for Packaging and Processing Technologies, "Robots and Cobots An Automated Future," "As robots have proliferated across the packaging industry, so too have AI-based applications. This rapid growth of AI-based solutions is expected to continue, with AI use in packaging predicted to grow at CAGRs of over 50% in the next five years."
---
---
In January, Deep Learning Robotics (DLRob) unveiled what it calls "groundbreaking robot control software," developed for compatibility with a range of robotic platforms. "This innovative software allows users to teach robots tasks in the most natural and intuitive way possible—by simply demonstrating the task," it explains.
Through DLRob's advanced ML algorithms, robots learn by observing and mimicking human actions. Says the company, the user-friendly interface and adaptability to a wide range of robots and applications, from industrial manufacturing to home automation, makes it possible for anyone to teach robots new tasks.
DLRob's software was introduced in January. In April it announced its support for new hardware devices with a new software update that will enable its customers to connect and control a wider range of robotics devices, including Universal Robots' UR series of cobots.
In June, at the automatica 2023 trade show in Germany, Intrinsic, an Alphabet company, and Siemens announced that they have teamed up to explore integrations and interfaces between Intrinsic's AI-based robotics software and Siemens Digital Industries' open and interoperable portfolio for automating and operating industrial production.
Explains Intrinsic, currently the development and runtime environments for AI-based robotics and automation components differ significantly in their development paradigms and make integration cumbersome. "For example, deploying advanced robotic capabilities such as pose estimation, robot manipulation, or automated path planning are complex processes that typically require teams of domain experts to operationalize," it says.
---
---
The two companies intend to investigate new methods to seamlessly bridge the gaps between robotics, automation engineering, and IT development. According to Intrinsic, bridging both worlds will speed up the development process of flexible, AI-enabled robot work cells and facilitate their seamless operation. This will make industrial robotics more accessible and usable for more businesses, entrepreneurs, and developers—particularly for new market segments like small and medium-sized enterprises (SMEs).
"Intrinsic's mission is to democratize access to robotics. However, robotics is rarely decoupled from the production environment, where the most value is created today," says Wendy Tan White, chief executive officer of Intrinsic. "That's why working with Siemens Digital Industries … is an exciting opportunity to bring joint solutions to the market in the future, so many more businesses can benefit from the value that robotics and automation can offer."
Adds Siemens CEO of Factory Automation Rainer Brehm, "Siemens is dedicated to bringing IT and OT [operational technology] closer together—the key principle of our Industrial Operations X portfolio. We are impressed by Intrinsic's open approach to industrial robotics, and we are excited to explore with Intrinsic how coupling of AI-based robots and automation technology can be further accelerated." PW
Companies in this article