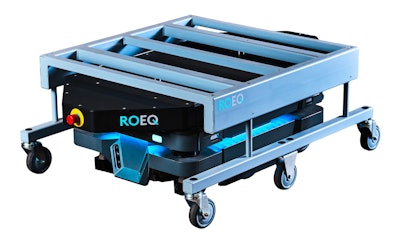 While autonomous guided vehicles (AGVs) have been in manufacturing facilities for years now, businesses are increasingly turning to autonomous mobile robots (AMRs) for internal transport solutions. That's according to PMMI's 2022 robot report, which adds that 82,000 AMRs shipped in 2021, with shipments predicted to reach over 600,000 by 2025. "More adaptable, flexible, and cost-efficient than AGVs, AMRs are being used to navigate dynamic environments and transport a variety of items, from raw materials to finished products," reads the report. "The newest generation of sensors and AI-driven data are making AMRs flexible enough to be easily redeployed and smart enough to navigate a facility without the need for guided wiring or magnets."
For packaging operations, AMRs can be used for materials transport, including pallet loads of packaging materials, as well as machine loading, and can be integrated with cobots to create mobile packing stations.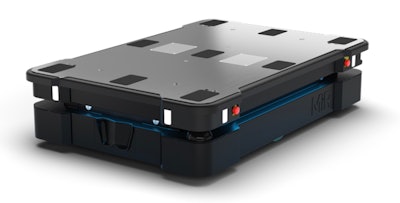 Two new offerings in the AMR space for transporting pallets and other heavy items around manufacturing centers, warehouses, and logistics centers are the MiR600 and MiR1350 from Mobile Industrial Robots (MiR), capable of handling loads up to 600 kg and 1350 kg, respectively.
The MiR600 and MiR1350 are said to be the market's first IP52-rated AMRs on the market, which means their components are protected and can tolerate dust and water drops. According to MiR, sensors, 3D cameras, and the latest laser scanning technology ensure 360-deg vision for precise and safe navigation and operations among people and other transport equipment in dynamic surroundings. The new AMRs are designed to comply with the industry's latest safety standards, e.g., ISO 3691-4.
---
---
Says MiR President Søren E. Nielsen, "Many companies now integrate our mobile robots as an alternative to manned forklifts, which can be expensive to staff and dangerous to operate. The streamlined transport provided by AMRs frees employees to carry out more value-creating activities and support processes in production while they increase shop-floor safety."
The MiR600 and MiR1350 can be deployed with different top modules for customized applications, and MiR offers a number of lift-top modules that enable the AMRs to pick up and drop off pallets and carts for easy integration and scalability throughout the entire value chain.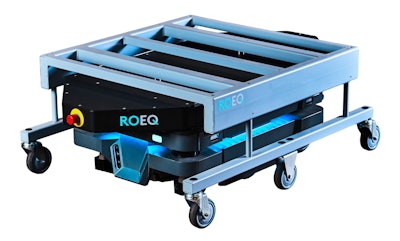 Complementing MiR's AMR technology, although in this case, its MiR250 250-kg robot, is a solution from ROEQ that combines its TMS-C500 Ext top module and its S-Cart500 Ext cart to double the robot's payload to 500 kg. The design of the TMS-C500 Ext top module also allows transportation of larger cargo up to 1.2 m long without compromising safety. Notes ROEQ, increased tilt stability is provided by the longer wheelbase of the S-Cart500 Ext.
---
---
The ROEQ cart solution picks up and drops off the ROEQ S-Cart in free space, meaning no affixed floorspace or docking stations are needed for pickups. Standardized mobile robotic equipment (MRE) from ROEQ is fully compatible with MiR's AMR, and it supports AMR deployments that are fully compliant with applicable safety regulations. The TMS-C500 Ext comes with ROEQ Assist software that loads pre-coded missions into the MiR robot, which can then be modified in the MiR interface.
Says Michael Ejstrup Hansen, Managing Director of ROEQ, "We are unaware of any other cart solutions in the market enabling this level of payload increase with the same maneuverability. This is the ideal solution for businesses looking for a safe and cost-effective AMR solution." He adds that the smaller robot with boosted payload is ideal for businesses looking to autonomously transport heavier goods in narrow and space-constrained areas.
---
---
Companies in this article