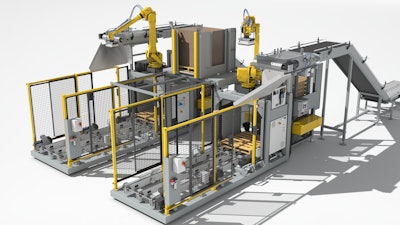 One of the most popular robot types in the industrial space is the six-axis articulated-arm robot. Six axes allow a robot to move in the x, y, and z planes, as well as position itself using roll, pitch, and yaw movements. This functionality is suitable for complex movements that simulate a human arm. Other advantages of six-axis robots include mobility (easy to move and/or mount) and a wide horizontal and vertical reach.
In primary and secondary packaging operations, six-axis robots are most commonly used for case and tray packing, cartoning, depalletizing and palletizing, and even truck loading.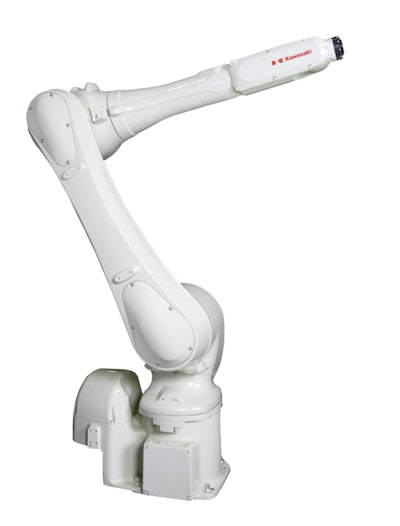 New from Kawasaki Robotics is the latest model in its R series of six-axis robots, the RS013N. Says the company, "By offering a 13-kilogram payload capacity, a wide working range, a small footprint, and IP67-classified design, the new RS013N sets the industry benchmark for small-to-medium payload robots."
The robot's design includes a new arm structure and drive unit and a lighter main to unit to enable high speeds (speed data not available through equipment spec sheet). According to Kawasaki, the RS013N's 1,460-mm reach is the largest in its class. In addition to the expanded work area, the robot offers wiring and installation options that contribute to its overall flexibility. The robot's internal Ethernet wiring is said to enable easy connection to a vision system or other peripheral devices, and its floor, ceiling, and wall-mount options provide installation flexibility for almost any layout.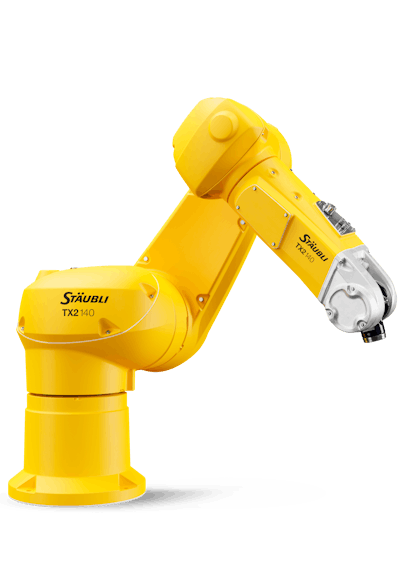 Another new six-axis robot technology, introduced by Stäubli in January, comprises three new robots for the medium-payload range: the TX2-140, the TX2-160, and the TX2-160L. The TX2-140 has a reach of 1,510 mm, the TX2-160 of 1,710 mm. Both have a load capacity of 40 kg. The TX2-160L, a long-arm version of the TX2-160, has a reach of 2,010 mm and a load capacity of 25 kg. The new models extend the company's existing TX2 generation, bringing the total to nine models.
Stäubli specifies the repeatability of all three machines at ±0.05 mm, which it says, "puts the robots on par with the most accurate in the world market."
Streamlined for cleanroom compatibility, the machines have a compact design and feature a large and efficient work envelope. "There are no ungainly external cables or hoses to disrupt the contours; all media and supply lines run internally inside housing that is completely sealed to protection-class IP65 standards (optionally with IP67 overpressure unit)," says the company. In addition to cleanroom applications, the robots can also be used for standard applications and in sensitive production environments.
---
---
Stäubli adds that by replacing its predecessor model, the RX160, with the TX2-140/160, it has made it possible for all of its six-axis robots to now operate on the same smart CS9 control technology, making it easier to implement multi-robot solutions in digitally networked production environments.
One six-axis robotic solution recently introduced specifically for palletizing is the R-Palletize from Applied Manufacturing Technologies (AMT). The palletizing station has been designed to allow low-volume, high-mix manufacturers to use a single robotic cell for palletizing a variety of product patterns. The system is available in four hardware configurations that include a Fanuc America M-710iC/50H medium-payload, six-axis robot that handles cases up to 40 lb, a Rockwell Automation control system, and an optional end-of-arm-tooling unit. According to the company, the R-Palletize offers changeover times of five minutes from the user interface.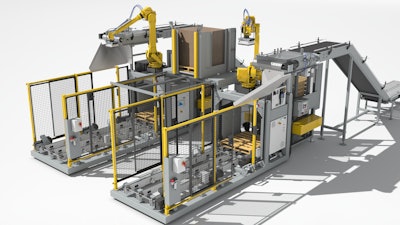 Also employing the Fanuc M-710iC series robot is a new palletizing system from Quest, a ProMach brand, called the Boxed Bot, which is available as a modular or skid-based solution. Says Quest, the long-reach Fanuc robot—the M-710iC series includes models that range in reach from 1,359 mm to 3,123 mm—provides higher stack patterns, which better maximize tractor-trailer loading for more efficient shipping.
---
---
The Boxed Bot is said to perform particularly well where line speeds average up to 40 units/min on jobs involving repeated changeovers. The robot uses a Venturi-style vacuum gripper to lift regular slotted cartons (RSCs), half-slotted containers (HSCs), bags, blocks, or pails and dunnage up to 60 lb. Programming is through the company's user-friendly QBox software: one touch to pull a recipe menu; one touch to pick the recipe; and one keystroke to activate with drop-and-drag technology to create a new pack pattern or manipulate a pallet pattern. Several standard pallet patterns are also preloaded.
Access the entire annual report on robotics from Packaging World: "New Advances in Robotics for Packaging"

---
PACK EXPO Las Vegas and Healthcare Packaging EXPO (Sept. 27-29, Las Vegas Convention Center) will reunite the packaging and processing community. With over 1400 exhibitors, no other event in 2021 will bring together a more comprehensive gathering of suppliers offering new products, technologies, and solutions. Attendee registration is now open.
Companies in this article