Vevey, Switzerland-based Nestle, which has operated in Poland since 1993, picked the Polish town of Wroclaw to build what it describes as "the most modern Nestle Purina factory in Europe." Officially opened in 2015 and occupying 135,000 sq m (1,453,128 sq ft), the plant's newest packaging operation is for wet cat food in 85-g tins.
The building includes everything needed to store raw materials, to produce the cat food, and to store finished goods. Filling and seaming of steel cans is also state of the art, after which a robotic nesting system fills cans into baskets at high speeds for efficient transfer to the retort systems that render the product shelf stable. Unloading from these baskets is also done robotically. Then the cans are labeled and sent to a palletizing system that organizes layers of cans and stacks them onto pallets to be stored as semi-finished product for subsequent multi-flavor combinations into 4-, 8-, 12-, and 24-count cartons. Immediately after comes case packing.
Our focus here is on these cartoning and case packing operations, which are done on four impressive systems from CAMA. The setup is practically a mirror image of an end-of-line solution that CAMA developed two years ago for Nestle Purina's plant in Aubigny, France, though Pasquale Devanna, Packaging Engineering Team Leader at Nestle Purina, says it features a few improvements made possible thanks to observation of the original line once it was operational.
Like the Aubigny operation, the Wroclaw system needed to handle 660 cans/min in 4-, 8, 12-, and 24-count cartons. This persuaded CAMA to dedicate one cartoner to the 4- and 8-count cartons and a second cartoner to the 12- and 24-count cartons. Why?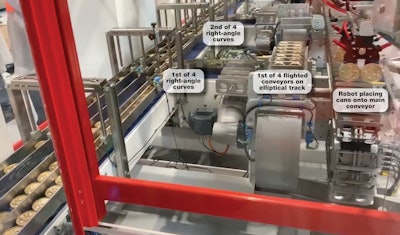 "To build a single machine capable of doing all four carton varieties at those speeds would have been much more complicated and would have involved unacceptably long changeover times," says CAMA Sales Engineering Manager Fabio Melli. "So for the two smaller cartons we use the IG270 robotic collator feeding into the CL169 side-load cartoner. For the 12- and 24-count cartons we use the IF318 top-load robotic collator/cartoner. Both cartoners then feed into our IN260 case packer." He adds that the 4-count cartons run at about 165/min, the 8-count at 85/min, the 12-count at 55/min, and the 24-count at 28/min.
Nestle only runs one of the two cartoners at a time. Regardless of which one is in operation, it's fed by a depalletizer from Clevertech.
Looking first at how the two smaller cartons are handled, the IG270 collator uses four delta-style robots to prepare cans in the proper collations on a flighted Main Conveyor and an additional two delta-style robots to lift the 4- or 8-count collations from the Main Conveyor into the bucket infeed of the CL169 side-load cartoner.
Robot Revolution, a one-hour program featuring latest 2020 market outlook for food, beverage, and packaging applications, including L'Oreal and Nestle Purina, as well as risk assessment and cobot safety. Access PACK EXPO Connects—60 education sessions for FREE through March 31, 2021.
How 8-count cartons are done
In describing how all of this happens when 8-count cartons are in production, it's useful to imagine four parallel conveyor lanes flowing from South to North. Each lane is filled with cans, and each lane has a different cat food flavor. At roughly 10-foot intervals, each of these four conveyor lanes curves East to take cans toward a robotic station occupied by a delta-style robot and a flighted conveyor mounted on a short elliptically-shaped track that runs North to South parallel to the four-lane infeed flow.
In each of these four robotic stations, the cans go through the same series of operations. First, a starwheel infeed device puts two cans at a time on edge in the flights of the elliptically-shaped conveyor. Parallel to this flighted conveyor is the flighted Main Conveyor mentioned previously, which, like the main infeed conveyor lanes, also moves in a South to North direction. Each of these first four delta-style robots picks two cans at a time from the flights of the elliptically shaped conveyor and places them in the flights of the Main Conveyor. So by the time this long Main Conveyor has moved past robotic station #4, every one of its flights holds two cans. What's more, the pairs of cans are perfectly arranged by flavor: two of Flavor A, then two of Flavor B, then two of Flavor C, then two of Flavor D, and then back to two of Flavor A.
All that remains is for robotic stations #5 and #6 to pick cans in collations of eight and place them in a parallel bucketed infeed conveyor leading into the cartoning station. The collations are then pushed into cartons that the CL169 erects from flat blanks. Flaps are closed and glued by a Nordson hot-melt adhesive applicator. Upon discharge, sensors detect if there are any problems with flaps being imperfectly closed, and if there are any issues, that carton is rejected. Finished cartons then move into an Ambaflex spiral conveyor and move at an overhead level to a similar spiral conveyor that takes them back down to floor level. As they exit the Ambaflex spiral conveyor, they pass over a checkweigher supplied by Minebea Intec and then receive a date code by way of a Videojet laser coder.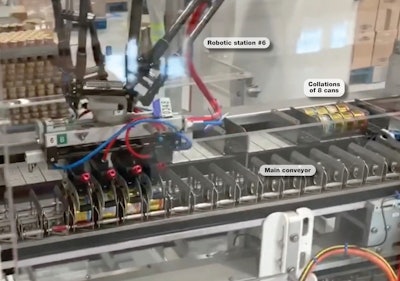 Now it's on to case packing on CAMA's IN216. In the case of 8-count cartons, it collates 12 cartons on a platform, pushes them at a right angle onto another platform, and eventually, four cartons at a time are pushed into a corrugated case that the machine erects from flat blanks. Flaps are closed and glued, again by a Nordson unit. Finally, a Logopak thermal transfer print-and-apply labeler applies production code information to the side of each case. One more inspection station confirms that everything is okay with label printing and placement. Then an Ambaflex spiral conveyor takes cases to an overhead conveyor that leads to remote palletizing.
12- and 24-count cartons
When the production schedule calls for the 12- or 24-count cartons, a simple diversion gate at the outfeed of the Clevertech depalletizer sends cans not to the side-load cartoning equipment but rather to CAMA's IF318 top-load robotic cartoner. It deploys three different robots to form cartons from flat blanks, load product into formed cartons, and close cartons with hot-melt adhesive.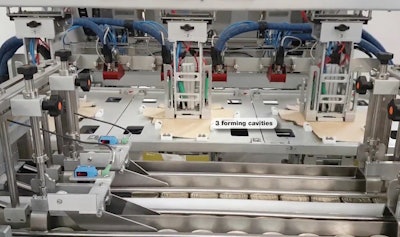 As we saw with the side-load cartoning operation, the top-load cartoner produces cartons containing an even mix of cat food flavors. It begins with a four-lane infeed conveyor where each lane holds a different flavor. A metering device transfers the cans from a flat belt conveyor onto a flighted conveyor so that each can occupies its own flight. Running parallel to this flighted can conveyor is a long stretch of conveyor on which several carriers run intermittently on an elliptical track. Each carrier has six buckets. As a carrier moves through the three robotic stations, it receives six empty cartons in the first station. The carrier then advances to the second robotic station so that 12 or 24 cans can be placed in each carton. And finally, the carrier advances to the third robotic station, which closes the carton with hot melt adhesive.
The first robotic station is notable for the number of tightly integrated actuations it involves. First, Device 1 picks three flat carton blanks from magazine feeds and places them in Device 2, which strokes forward a short distance to place the blanks in Device 3. As this transfer occurs, hot melt is sprayed on the flaps of the blanks by six nozzles fed by a Nordson adhesive application unit. Once the three blanks are in Device 3, they don't stay there long. The robotic end effector's vacuum cups pick all three blanks up slightly, and then, as Device 3 retreats to get three more flat blanks, the carton blanks are plunged straight down into tooling that forms them into erected cartons. Now the robot lifts the three erected cartons out of the tooling and places them in three of the buckets on the carrier that runs along the elliptical track. This carrier then advances a slight distance so that the robot can place three more freshly erected cartons in the other three buckets. Then the carrier is whisked forward to the second robotic station.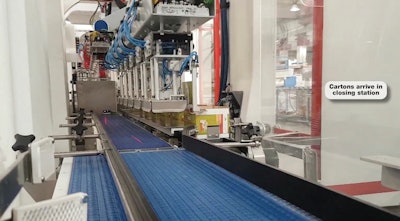 The second robot in the IF318 has six end effectors that use vacuum cups to pick and place into each carton two layers of six for a 12-count or four layers of six for a 24-count format. All that remains now is for the carrier to advance the loaded cartons to the third and final robotic station. It, too, has six end effectors that, with each cycle, apply hot melt adhesive, close the top flaps, and pull the finished carton away from the bucketed carrier and onto a parallel discharge conveyor leading immediately into an ascending Ambaflex spiral conveyor. It takes cartons to an overhead conveyor leading to the descending spiral conveyor that discharges into the IN216 case packer.
All in all, it's an impressive example of how variety packs can be handled. Expect to see other examples of this kind of packaging prowess, since variety packs are in high demand where today's consumer is concerned.
Watch this line in action here. Other Free video sessions include:
Companies in this article