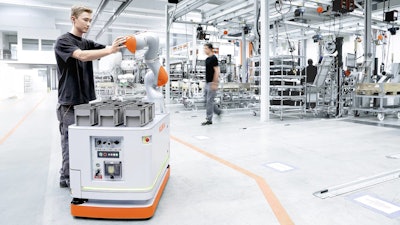 Kuka Robotics
If there's one theme that appears in packaging almost everywhere you go it's the need for flexibility. Much of the flexibility demonstrated at the latest PACK EXPO Las Vegas came in the form of robotics, especially autonomous mobile robots (AMRs) and collaborative robots (cobots).
As part of the overall move to fulfill consumer demands, robot use continues to grow among consumer packaged goods companies (CPGs), with the automation technology being used across the packaging line from picking to palletizing, according to James Cooper, executive director of global accounts for Fanuc America, who spoke on PACK EXPO's Innovation Stage. In fact, from 2017 to 2018, robot use increased almost 48% in food and CPG markets, and more than 31% in life sciences/pharmaceutical markets.
Although cobots make up a very small percentage of the robotics market today, they're expected to account for more than a third of robot sales by 2025.
In its booth, Fanuc showed it new CR-15 cobot performing a logistics order fulfillment application, with the ability to pick up random items from a bin. The company's new 3DV/600 area scanner enables the cobot to find objects in three dimensions, pick them from the totes, and place them somewhere else, noted Wes Garrett, an account manager for Fanuc. With two speeds, the robot can operate as fast as 1,500 mm/s but will slow down to 800 mm/s if a human worker is nearby.
A robot doesn't have to actually be a cobot to be collaborative. ABB Robotics showed how its standard IRB 460 palletizing robot could incorporate SafeMove2 to make it a collaborative operation, enabling occasional interaction between robot and humans. As part of the demonstration, a camera system developed as a result of ABB's acquisition of Spanish startup NUB3D provided information for the robot to create a more flexible environment.
"What we have is a system where the robot receives information from the cameras as to the next box to be palletized," said Alan Spreckley, global industry segment manager for food and beverage at ABB Robotics. "The real value here is that we can now depalletize mixed pallets of products, which is particularly useful in e-commerce and warehouse distribution environments."
In another palletizing example, Columbia/Okura partnered with Universal Robots (UR) to develop miniPAL, a mobile collaborative system that can address a range of applications in machine tending, palletizing, and packaging. The mobile setup makes it easy to move and redeploy the cobot to new processes.
In separate show news, UR upped the flexibility of its cobot lineup by adding a model that can lift up to 16 kg. The higher payload of the UR16e was developed after talking with OEMs and end users to better understand their needs—rather than the company's typical push of product into the market, noted Jürgen von Hollen, UR's president.
Mobile robots
On the mobile side of the robotic equation, Mobile Industrial Robots (MiR) was showing off its range of AMRs, including its new MiR1000. With a payload of 1,000 kg, it can handle twice the weight of MiR's previous models. The MiR1000 can automatically pick up, transport, and deliver pallets and other heavy loads through dynamic environments. Like its predecessor, the MiR500, the MiR1000 is a collaborative, safe and flexible alternative to forklifts on the factory floor.
At MiR's booth, the company also featured ROEQ's new TR1000 Top Roller conveyor, which shows how load and unload operations can be automated on the MiR1000, MiR's largest and highest-payload AMR. Besides showing ROEQ's technology, it also highlighted MiR's growing MiRGo partner program, which incorporates different types of top module for MiR AMRs.
"This company provides different conveyor top modules, but also shelf solutions for our customers for moving not only pallets but also carts or individual totes," noted Nic Temple, a sales director for MiR. "The automation solution is very flexible and scalable as a result of our open communication protocols. We have an API and also Modbus TCP/IP as communication to our robot for any kind of top module accessories."
At its own booth, ROEQ highlighted its new Docking Station Precision, which can be mounted to floors, walls, or machinery. With a repeatability of ±1 mm, the docking station works in tandem with ROEQ's cart solution C300 for MiR's AMRs.
As levels of automation increase in operations there is a growing demand for high accuracy, according to Peder Grejsen, technical sales manager for ROEQ. "In a packaging cell, for example, where we increasingly see robots handling products, it is imperative that the product delivery happens exactly where the robot is instructed to pick up the part," he said.
Best of both worlds
Some robotics suppliers have started combining their mobile and cobot technologies to create even more flexible manufacturing and improved operational efficiency.
At its booth at PACK EXPO Las Vegas, Omron was showing off what it calls an autonomous mobile manipulation solution—it integrates self-navigating LD mobile robots with Omron's TM cobot arm. It's a proof-of-concept demo that lets cobots move easily to wherever they need to be, making it useful for tending and resupply of things of materials or cases.
"You can have the flexibility of a mobile robot, which is able to navigate in standard situations with different people and different environments using a safety scanner. And by putting the collaborative on top of that, we can take the flexibility of being able to do things like machine tending, replenishment, and also interacting with different parts of the plant and different people in a collaborative fashion," said Keith Kersten, industry marketing group manager for Omron Automation Americas. "So by putting both of these together, you get flexible manufacturing, you have it in a safe way, and you also are able to do it without making big changes in your plan or in your environment."
KUKA Robotics has taken a similar approach, mounting cobots on top of mobile robots and setting them to work together in a collaborative system. Its KMR iiwa combines its LBR iiwa lightweight robot with a mobile, flexible platform. As demonstrated in KUKA's booth, the system adapts easily to changing manufacturing processes to optimize production. The robots can communicate with each other to more easily work together as a complete system.
Companies in this article