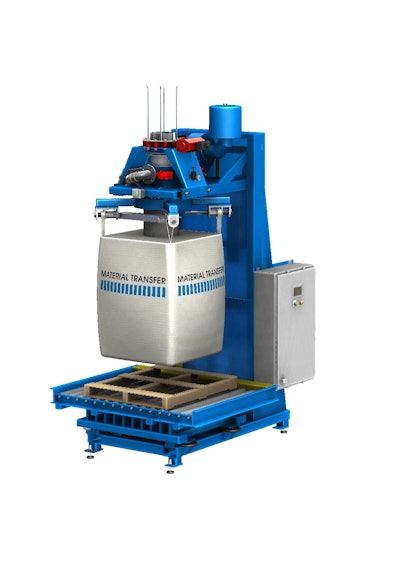 The bag support carriage and fill head lower to a programmed operator height, extend towards the operator, then rotate for "reach-free" bag strap and bag spout connection. From the "load position", an operator can safely connect an empty bag while standing on the floor in front of the filler unit in approximately 20-30 seconds.
Once the bag spout is sealed, the fill carriage returns to the "fill position." The bulk bag is automatically inflated, filled, densified, and weighed with the push of a button. Once the fill cycle is complete, the bag inlet spout and straps automatically release, the fill head raises, and the filled bag is removed via powered roller conveyor.
Units are custom designed for your application requirements and can include powered in-feed and out-feed conveyors, check scales, pallet dispensers, or slip sheet dispensers.
Companies in this article
Videos from Material Transfer & Storage, Inc.