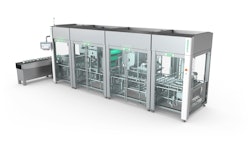 Available in the hygienic versions of Clean or Ultra Clean, the LFS machine fills a broad range of dairy and food products into preformed containers, cups, or trays. Depending on the throughput and packaging format requirements, Syntegon's LFS filling machine can be configured as single indexing or sequential indexing (format flexible) with 3-8 lanes and an output rate of up to 20,000 cups/hr.
The LFS fills and packages products such as yogurt, sour cream, margarine, deli salads, dips, sauces, soups, or retorted pet food. The machine's new modular concept enables manufacturers to react quickly to changing market demands. Each machine function can be retrofitted, added or exchanged to meet customized requirements. The open design ensures optimum accessibility and visibility for easy cleaning and maintenance, resulting in a highly efficient and economical production.
---
PACK EXPO Las Vegas and Healthcare Packaging EXPO (Sept. 27-29, Las Vegas Convention Center) will reunite the packaging and processing community. With over 1400 exhibitors, no other event in 2021 will bring together a more comprehensive gathering of suppliers offering new products, technologies and solutions. Attendee registration is now open.
---
The LFS consists of individual modules that include main machine functions such as cup supply, disinfection, filling, sealing, capping, and cup discharge. Each module can be configured, added or retrofitted according to individual production needs for maximum flexibility.
To ensure optimum hygienic conditions during the filling process, the disinfection station can be configured to meet individual product requirements. For ultra-clean applications such as products with extended shelf life, customers can opt for two types of chemical-free disinfection methods: UVC light or pulsed-light. Optionally, the same technology can be used to disinfect the lids before placing them on the cups. In addition, HEPA filters purify the air, while container vacuums remove loose particles and debris from the cups before filling. Food producers can seal their product's packaging either using pre-cut foils or heat-sealing rollstock film. Integrated sensors perform seal integrity checks to detect any leakage or poor seals to ensure product safety.
Companies in this article