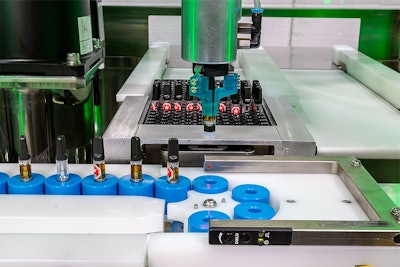 This content was written and submitted by the supplier. It has only been modified to comply with this publication's space and style.
A fully integrated system would allow you to introduce cartridges, mouthpieces, and resin to the system, and let BellatRx's Constellation filling/capping system do the work of feeding, pre-weighing, filling, post-weighing, capping, torquing, inspecting, labeling, and unloading of cartridges or pods. Constellation is able to index unstable formats in a safe way that prevents tilting or leaking.
Cannabis oil and distillate processing requires accurate fill volume or weight control, and no product loss at the end of a batch. What really sets the Constellation apart is its dual-weight control before and after filling. The system measures a tare weight and gross weight, subtracting the tare to obtain an accurate net weight as a 100% verification of the fill volume. The system's advanced dispensing system ensures accurate product temperature control throughout the filling process and ensures no product loss at the end of each batch.
Robotic pick and place stations unload cartridges from trays into pucks that index the cartridges gently throughout the process of filling, capping, and inspection. Grippers at robotic stations match the diameter of the cartridge for delicate handling. At the filling station, servo-controlled pumps deliver precise volumes into units, and nozzles are lifted to reduce contact and reduce aeration.
Capping stations are also servo-controlled; rotation and down speed are synchronized to match the pitch of the threads. The capping system is equipped with torque feedback sensors. A vision inspection system verifies the presence and placement of mouthpiece on cartridges. Robotic arms then reload finished product back into trays at the end of the line. Subsequent labeling and laser etching of cartridges or cartoning can be incorporated with the modular design of the Constellation system.

Companies in this article