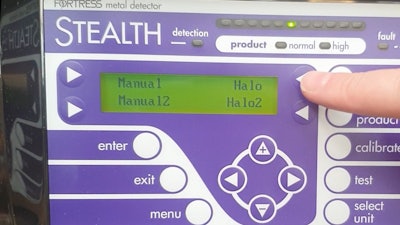 It will be one of the products featured at Fortress Technology's PACK EXPO Connects virtual booth.
Automatic testing saves time, money, labor, along with removing the risk of human error and work place injury at critical control points on a manufacturing line while complying with industry standards. Fortress Technology's Halo metal detector system is ideal for applications where manual testing of a metal detector is made difficult due to access, position, access to the product flow, environmental conditions, etc.
Halo is suitable for any Fortress metal detector, ideally added at the point of manufacture, it can however, be added to some existing systems.
Key Features
• Saves Time and Money
• Automatic, Accurate and Consistent Testing at Programmable Intervals
• Decreases Frequency of Manual Testing
• Reproduces Ferrous, Non-Ferrous and Stainless Steel metal sample signals
• Detector Testing at a button push
• Test speed with Halo set to match belt speed in conveyor applications
• Front, Middle, and Back of Product Testing with Conveyor Applications
• Externally Operated System
• Multiple Custom Test Levels
• Eliminates Workplace Safety Risks
• Reduces Machine Downtime/Testing Time
• Auditor Approved
• Negates Human Error
• System Set-Up in Minutes
• Tamper Proof
• Detailed Data Collection and Reports with Contact Reporter Software are Compliant with HACCP & GFSI Requirements
---
PACK EXPO Connects–November 9-13. Now more than ever, packaging and processing professionals need solutions for a rapidly changing world, and the power of the PACK EXPO brand delivers the decision makers you need to reach. Attendee registration is open now.
---
Companies in this article