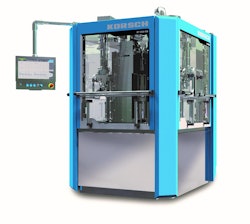 The XT 600 HD has proven effective in the production of salt tablets, catalysts, detergents, and fertilizer tablets. The high capacity feeding system and compression column design deliver unparalleled tablet quality and production output.
Complete with the innovative on the spot punch lubrication system and optimized dust extraction, the XT 600 HD is designed for extended, continuous operation, and provides premium efficiency in a 24/7 production environment. Both the precompression and main compression columns can deliver 120 kN of compression force – sufficient even for the most difficult-to-compress products. The compression dwell bar extends consolidation time and improves output with difficult products. Turret options include 65-stations (19mm max. tablet diameter), 53-stations (25mm max. tablet diameter),and 39-stations (35mm max. tablet diameter), to accommodate the widest range of product formats.
To minimize noise and vibration, the XT 600 HD offers the patented carrier plate design with market-leading decibel tamping offered in Korsch's popular XL Series.
The fully accessible compression zone facilitates streamlined cleaning and changeover to ensure maximum uptime. The results are extremely high productivity and efficiency, even in the most demanding production environments.
Featuring a 19-inch touchscreen and a Siemens or Allen-Bradley PLC platform, the XT 600 HD control system offers an intuitive, graphical HMI environment, and is designed for absolute reliability. The standard press force control system provides precision, automatic tablet weight control, and the capability to run unattended. The HMI offers an unprecedented level of online help, including direct access to manuals, assembly drawings, schematics, spare parts information, as well as procedural videos to support setup, cleaning, and machine changeover.
The XT 600 HD's open control system architecture can be fully integrated to a central client network or SCADA system for real-time monitoring and acquisition of critical process parameters via an OPC server, as well as centralized login, product recipe management and production data storage.
Companies in this article