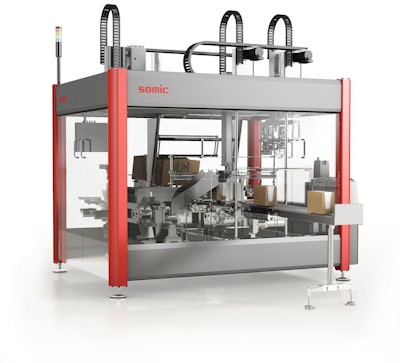 Machine is ideal for retail, food, and beverage and consumer goods manufacturers. Pre-packed products such as standup pouches, flow packs and glass jars are fed separately and grouped as case contents before the grouping is positioned onto the flat case blank. It is then folded around the entire grouping and secured with hot glue. As a wraparound model, the cover is folded and closed.
Depending on the product, ReadyPack has a collating capacity of 160 products/min . As a tray packer, it will case up to 18 packaging units/min; the wraparound model delivers 12 units/min . At PACK EXPO, it will be demonstrated as a wraparound running pre-packaged pretzel flow packs in a standing upright position.
"This is a simpler application than the 424 T2 (D) and the Somic FLEXX III that debuted last year at PACK EXPO. But it was designed this way with a purpose," explained Peter Fox, Senior Vice President of Sales for SOMIC America.
"ReadyPack is a solid, entry-level case packing system with unique benefits and plenty of flexibility. While our last two machines have proven to be popular with our customers, we learned there is room in the marketplace for a machine like ReadyPack. It collates, cartons and closes like the others, and it is equipped with Rockwell Automation controls. It does operate at a slower pace and we have reduced lead times, two things that potential customers had expressed interest in."
Companies in this article