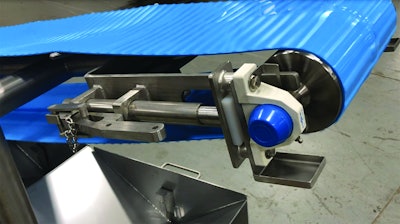 The trough design includes holes for easy cleaning, 2-pin pull belt removal for maintenance, and no wear strips. The belt itself is formed in a U shape for product stability.
NTR belt removal takes seconds/minutes, allows for easy maintenance and simplistic changeovers, alleviates unnecessary toolboxes and tools for increased operator safety. The tool-less pin-pull approach allows the operator to remove the belt in seconds for routine maintenance.
Bottom drip pans with clean and drain spouts were incorporated to catch the balled dough residue. The system has a 12 in. incline from the 42 in. T.O.C. (top of conveyor) infeed elevation to the 54 in. T.O.C. discharge elevation.
Note: There is no guarding on this particular system but we do recommend guarding in most cases for safety purposes.
View the machine at https://youtu.be/6d7xTV-8WuY.
Companies in this article