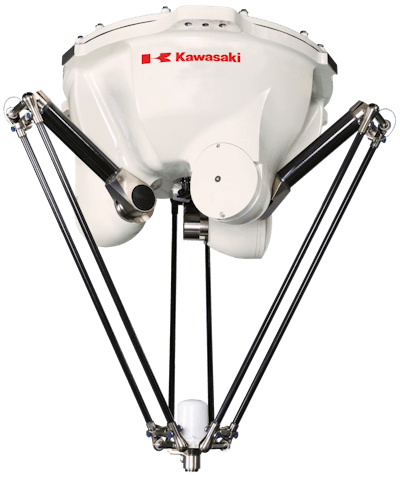 Robots can be used for material handling and assembly applications in a variety of industries, including food, pharmaceutical, cosmetics, electronics, machinery, and solar panels. They are capable of high-speed motion over a wide range, which helps speed up production lines. The YF003N pick & place robot has a maximum payload capacity of 3 kg and it offers the wider motion range of the Y series models.
High Processing Capability & Large Motion Range
The YF003N boasts speeds of 222 cycle/min for a 1 kg payload operation, in a to-and-fro motion, with an upward stroke of 25 mm, a horizontal stroke of 305 mm, and then a downward stroke of 25 mm. The high processing capability of the Y series models contributes to takt time reduction. To accommodate various types of workpieces and production lines, the Y series robot models cover a wide motion range. The YF003N motion range of 1,300 mm in diameter and 500 mm in vertical direction.
High Accuracy
High repeatability ensures accurate pick & place operation and high productivity. The Y series robots are compatible with vision systems, offering high-speed, high-precision, and safe transfer in combination with the visual sensing system.
Wash-down Protection & Food Grade Lubrication
The YF003N robot is designed for wash-downs with an acid or alkaline cleaner, making it ideal for applications that require a hygienic environment. As food processing machinery, the YF003N model's moving part use food grade grease and oil to ensure hygiene.
Companies in this article