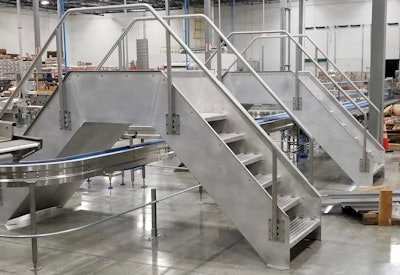 They add value by enabling workers to safely and swiftly get where they need to be to keep the production line running efficiently. In many cases walkovers are required for compliance with government standards for evacuation planning.
Choose from materials such as aluminum, stainless steel, galvanized steel, and painted steel to meet your needs. Sealed diamond plate decks are available to work above lines, and open-grated decks with a polymer finish can be used for easy cleaning and ventilation. We make kick rails ranging from the traditional 4-inch up to the new 24-inch standard.
Configurations can include simple steps up and steps down, steps up and ladder down or ladder up and steps down, etc. Steps can also be angled to maximize floor space. For unique situations, our engineers and designers will build a custom walkover to fit any requirement.
Finding the perfect sorting conveyor for a particular set of products that fits size and space parameters can be arduous," said Carmen Sammauro, President of Eaglestone Equipment. "Our walkovers are designed to contain contaminants from the moment a person enters the processing area to the time they leave."
Companies in this article