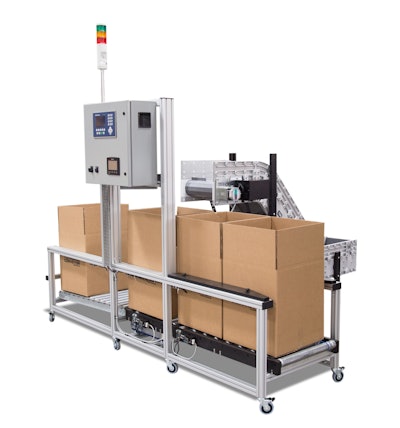 Dynamic Conveyor will be presenting a variety of conveyors to the packaging and processing industries at PackExpo 2019 in Las Vegas.
An In-Line Box Filling System will be on display, which is new to the line of products offered by Dynamic Conveyor. All of these box filling systems are designed to fill by part count, cycle count, or weight. Created to offer a smooth transfer of boxes from 0 – 200 lbs., the systems are automated and allow for unattended operation of accurate filling with simple control set-up and an easy to read visual indicator, according to the company.
DynaClean Sanitary Conveyors will be on display to show how a variety of food or pharmaceutical products can be effectively and efficiently conveyed to higher elevations. Designed to reduce cleaning times by half, DynaClean conveyors offer a patented design made to be simple, quick and easy to disassemble and clean. The company says there are no tools needed, no small parts to lose, and no nooks and crannies to clean due to their open design with no place for food or bacteria to hide.
Also on display will be DynaCon Reconfigurable Conveyors, which are created to offer packagers the ability to build their own conveyors using modules—like Lego® building blocks—to configure and later reconfigure their conveyor layouts. Conveyor configurations include flat, incline, angle, and radius turns. Modules are built using high-strength plastic injection molded parts that are meant to be light-weight enough to be easily reconfigured. Reconfiguration of DynaCon conveyors are intended to offer an eco-friendly and sustainable solution.
Companies in this article