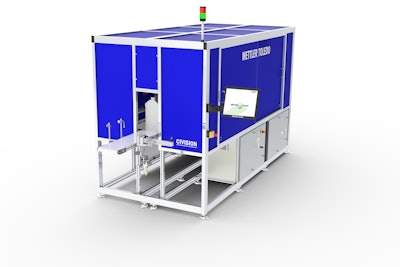 It also inspects the body of each container for material inclusions or malformations that can lead to problems in filling and capping operations and unattractive shelf presence that might damage a product's brand image.
The CI-Vision V2710 can be used to inspect containers shortly after being formed at the molder, and defects removed from the production line before leaving the container manufacturing facility. The system can also be installed at the entry point to a filling line to inspect incoming empty containers before filling.
The precision machine vision system achieves proven results by utilizing multiple cameras and proprietary software to complete multiple inspections simultaneously. The system also changes over quickly to inspect new products. Changeover from a 25-oz bottle to a 250-oz bottle, for instance, involves only 5 touches on the HMI screen to select the proper part from the system library. The system then immediately adjusts conveyors, cameras and lights to predetermined optimal positions for that inspection.
The V2710 system includes auto-masking, a feature that automatically masks out the outer perimeter of a bottle to prevent the outer edges from causing a false reject of a product, and adaptive-thresholding, a tool that changes the vision threshold based on a localized area. This is especially useful in taking account of shape gradients where it otherwise would be challenging to find defects.
The system can also be equipped with telecentric lenses that receive light in parallel lines, eliminating readings that can be distorted by the distance of the target from the lens, as occurs with normal lenses. This provides an extremely high level of precision in measuring bottle formation, specifically neck threads.
Companies in this article
Videos from METTLER TOLEDO Product Inspection