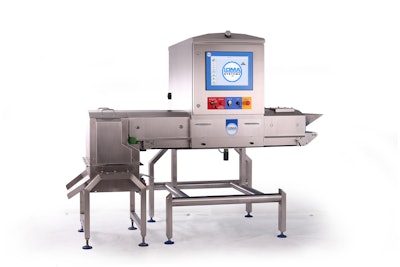 Loma's X5 Bulkflow X-ray offers industry-leading detection levels for loose products on a wide variety of foreign body contaminants, including ferrous, non-ferrous and stainless metals, stone, ceramic, glass, bone, and dense plastics, regardless of their shape, size, or location within the product.
In practical terms, the types of loose, unpackaged, and free-flowing products the X5 Bulkflow can check and detect are endless and include meat, poultry, convenience foods, frozen products, nuts, berries, dried fruit, lentils, cereals, and vegetables before they are packaged or used as ingredients in finished products.
The X5 Bulkflow can even be used to inspect raw products prior to the production process, for example, straight from the field where stone or glass might be present, plus it can even detect soft contaminants such as dirt. Clearly the consequence of a solid item such as a stone could cause serious machinery damage further down the production line and no consumer wants to find dirt in their salad.
To maximize production line profitability, the X5 X-ray Series is proficient at detecting and managing rejects, by reducing reject errors and so ensuring re-inspection costs are for genuine rejects only. For handling rejects, the X5 Bulkflow is available with optional single flap, dual flap, multi flap or carriage retract band reject options to suit the existing production line set-up.
What makes the X5 Bulkflow hygienic and low maintenance are its sloping surfaces to stop food particles and wash-down droplets accumulating in crevices, plus the belt can be easily and quickly changed.
On a production line with multiple products, the X5 Bulkflow facilitates quick product changeovers as it has the ability to store hundreds of product profiles. It automatically saves information with date and time for auditing and includes a high-speed USB sensor and Ethernet connection for easy reporting. Built for demanding 24/7 operations, it boasts automated set-up and remote diagnostics.
Featuring an intuitive full colour touch screen, Loma's X5 Bulkflow is extremely easy to use with minimal training requirements, and is available in multiple language options, plus there is peace-of-mind with the built-in security controls to help manage who can access the system.
As with all Loma products, customers benefit from a high level of before and after sales service and receive a tailor-made solution to their X-ray inspection requirements.
Companies in this article