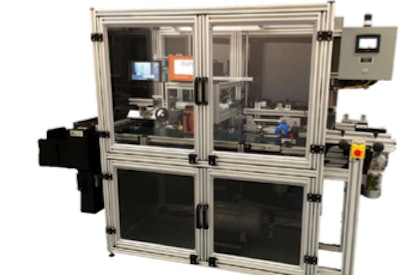 The bags are advanced to the pick and place automatically. Bags are picked one at a time and placed on the pusher transfer system. The bag/pouch aligns while being pushed onto the labeling or printing conveyor. The system is fully adjustable for a wide variety of pouches and bags. Loading new pouches can be done while running, no need to stop. The system is designed for non-stop operation 24/7.
The user-friendly design requires minimal maintenance. The PLC is used to control the system and provide stored recipes and product counts. The system incorporates a pick verification system, if a bag is not detected by the system, the infeed conveyor will advance until a bag is detected (or times out and alerts the operator).
The system is similar to a reciprocating placer, except for the design allows the system to move the infeed conveyor in/out for smaller or larger bags, shortening the stroke length and enabling the machine to operate faster. The bags and pouches are placed at the same location no matter the length.
The system can be configured for bags and pouches to be placed onto a moving conveyor that is 90-degrees to the placement. In addition, we provide downstream labelers, ink jets, thermal transfer overprinters, inspection systems, reject systems, and shingling conveyors. In addition to the vertical feeding system we also provide a horizontal feeding systems where the bags/pouches lay flat. Usually meant for bags that cannot stand on edge because they are large, odd shaped or very thin.
Companies in this article