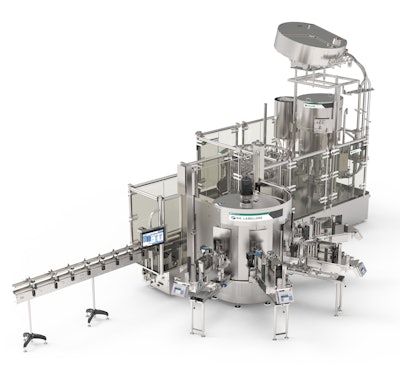 ProBloc incorporates a P.E. Labellers pressure sensitive labeler, Pacific or Federal liquid filler, and Zalkin bottle capper into a single unified high-performance system. This innovative tribloc maximizes operating efficiencies, reduces scrap, saves floorspace and speeds changeovers.
"Unlike a monobloc that combines two systems into one, ProBloc marries three into one. It gives customers the accuracy, uptime and efficiency they look for while minimizing floorspace and eliminating product waste to reduce their costs," said Pete Carpino, Vice President of ProMach Filling Systems. "By putting the labeler, label inspection and a reject device before filling and capping, scrap is reduced. The system rejects any mislabeled or unlabeled bottles when they're empty at a fraction of the cost of rejecting filled bottles."
ProMach Filling Systems tailors each ProBloc to meet the unique requirements of every customer. The pressure sensitive labeling module from P.E. Labellers can apply front and back as well as wraparound labels. The filling module can feature either flow meter or volumetric time pressure technologies from Pacific or weight or level fill technologies from Federal. The pick-and-place capping system from Zalkin can accommodate screw-on, roll-on, push-in and snap-on caps or be equipped with insert-and-close applicators for pumps and triggers.
The personal care product model is optimized for HDPE and PET containers from 8 to 32 oz (227 to 907 g) in volume, applying labels from 0.7 to 7.6 in. (20 to 195 mm) in height and 1.1 to 5.1 in. (30 to 130 mm) in length and caps from 2.9 to 4.7 in. (75 to 120 cm) with options to handle more. Color-coded, no-tool changeparts help simplify changeovers.
Compared to integrating three separate rotary packaging machines on a line, ProBloc's tribloc design reduces overall equipment footprint to save valuable floorspace. Perfectly integrated modules provide smooth transfers from one starwheel to another, eliminating unnecessary container movement through the labeling, filling and capping processes to maximize operating efficiencies. ProBloc's servo-driven operation achieves precise motion control at high speeds while reducing maintenance to maximize uptime.
Labeling empty containers with an inspection/no-fill/reject device dramatically reduces scrap and yield loss. Internal barrier enclosures made of stainless steel and polycarbonate panels shield and protect the labeling module from the filling module during production and sanitation. Options for clean-in-place (CIP) include a push-button filler CIP system, automatic push-button filler turret external CIP systems and filler CIP skids. ProBloc features an Allen-Bradley PLC and servo motors, a large 18.5-inch (47-cm) HMI and a NEMA 4X- and IP-66- rated electrical enclosure.
ProBloc comes ready to be integrated with ProMach's ZPI line performance monitoring and analysis software. This 'ZPI-ready' plug-and-play capability reduces implementation time and cost. Installed on the customer's local area network, this optional software provides in-depth support for Continuous Improvement Initiatives and Overall Equipment Effectiveness (OEE).
ProMach supports ProBloc with a dedicated team of highly trained technicians, providing single-source responsibility and support for labeling, filling and capping.
Companies in this article