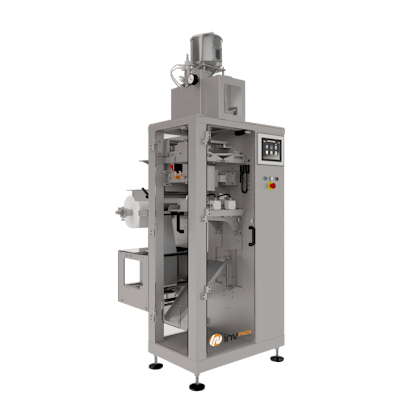 INV Pack is exclusively distributed in North America by Matrix Packaging Machinery, a product brand of ProMach,
It can pack more than one product in each sachet, for example, cereal with powdered milk, or instant soup with dehydrated vegetables. From the unit's industrial PC touch screen, such key operating parameters as pressure, temperature, sealing time, and length of the sachet are precisely controlled and recipes stored. Servo motors provide for fast, accurate adjustment. This machine is suitable for granulated, liquid, paste, powdered, and solid products.
The compact MVA3 measures 5.5 ft high by 2.7 ft deep by 3.8 ft wide. It accommodates film reels up to 1 ft wide (300 mm). The innovative INV-Easy design provides simple and safe access to the various areas of the machine for cleaning and maintenance. The pharmaceutical model complies with Good Manufacturing Practice (GMP) guidelines and is built under the strictest manufacturing standards.
Companies in this article
Videos from Matrix Packaging Machinery