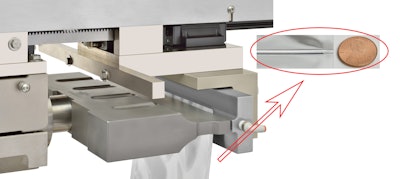 Designed with compact dimensions and mirror-image heads for close centerline spacing in duplex applications, there are mounting configurations available to fit most rotary and in-line pouch filling machines.
Additional features include integrated cooling of ultrasonic components and IP-65 rating for wash-down environments.
The new Model T201WD pouch sealing system also introduces two "industry firsts" – the first self-leveling tooling and the first easy access tooling door for ease of maintenance.
Ultrasonic sealing is a common solution for sealing through contamination and guaranteeing hermetic seals in retort pouches and produce bags. Now, for applications where maximum seal strength is also required, Sonics has developed breakthrough technology wherein the tools are engineered to reduce stress by creating a specific flow path that restricts the movement of the sealant during the weld process. Focusing on sealant compression and rate of evacuation, the new proprietary technology dramatically reduces film stress and increases seal strength by keeping greater quantities of sealant in the bond area.
In a recent independent study done on retort pouches, Sonics' new pattern produced bond strengths exceeding both competitive ultrasonic seals as well as heat seals. In fact, the Sonics' seals delivered bonds that were on average nearly double the strength of the next best design of competitive ultrasonic seals.
Companies in this article