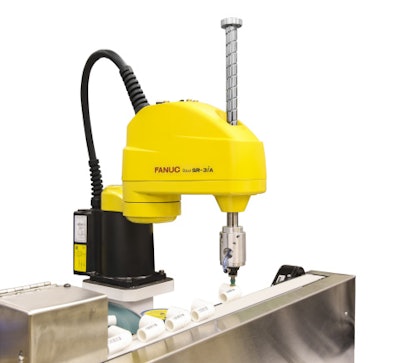 Launched in 2015 (in collaboration with Cisco), ZDT identifies potential failures so customers can schedule maintenance and repairs, avoiding unexpected breakdowns during production.
ZDT is available for all FANUC R-30iB Plus robots as well as R-30iA and R-30iB robots with the latest software version. ZDT monitors the robot's mechanical health, controller and process equipment controlled by the robot. A ZDT Data Collector located inside a customer's plant securely transfers messages from FANUC robots to FANUC's ZDT Data Center in the cloud. At that point, FANUC's analytic programs review the data in the cloud for potential issues. If there is an issue, ZDT automatically notifies FANUC's service team and the customer with recommended actions to confirm and correct the issue.
"For customers with operations in multiple states or even overseas, ZDT combines robot data from all locations into one dashboard so managers and engineers can remotely check equipment status and support local maintenance personnel," said Joe Gazzarato, director, ZDT Cloud Development, FANUC America.
ZDT Customer Benefits
• Automatically monitors robot health status and upcoming maintenance requirements, tracks changes to robot programs, etc., eliminating the need for manual analysis and tracking
• Eliminates unexpected downtime and avoids lost profits
• Maximizes throughput
• Optimizes maintenance costs
• Increases robot's mechanical life expectancy
• Easily monitor and support operations from anywhere in the world with remote access to robot health and status information via the ZDT Web Portal
"ZDT is a proven solution for customers looking to take that next step into the Industrial IoT," said Gazzarato, "FANUC robots are not only the most reliable, but they are also the most intelligent and now, most predictable. ZDT promises our customers even more innovation, dependability, and reliability."
Companies in this article