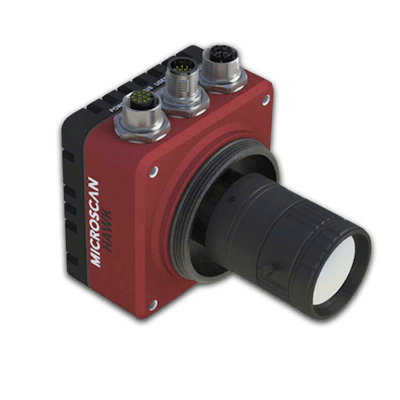 The HAWK MV-4000 does code reading, code verification, inspection, guidance, and gauging, incorporating state-of-the-art algorithms that can serve applications in virtually any industry.
Users seeking high-quality images and a high level of configuration flexibility will appreciate this camera's wide array of sensors, ranging from 0.3 MP to 5 MP with a pixel size of 4.8 μm. The system can be optimized for almost any application thanks to these sensors in combination with C-Mount lens options and plug-and-play external lighting.
Features include intuitive setup, testing, and runtime user interfaces to program the inspection and to set up communication between the camera and other components on the line. Machine vision customers have praised the MicroHAWK's ability to reduce setup time from hours to mere minutes, and the HAWK MV-4000 is no different.
The user interface is image-centric, with intuitive drag-and-drop programming. Reading, verification, and vision tools are ready to use right out of the box without time-consuming parameter adjustments. Two unique user interfaces (UIs) are available: the AutoVISIONUI, intended for most operators or technicians, and the more advanced and customizable FrontRunner UI, designed for machine vision professionals. Although the HAWK MV-4000 is a smart camera rather than a PC-based device, its processing power enables speeds nearly equivalent to those reached by vision systems relying on PC processing external to the camera.
Companies in this article