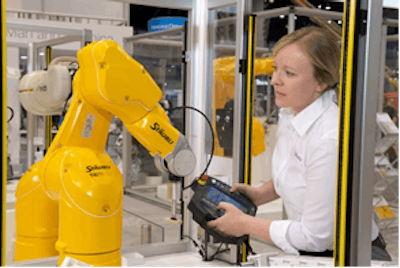 With the launch of the TX2 series and CS9 safety control, Stäubli has opened a new chapter in man-robot collaboration. The six-axis robots have a separate safe digital encoder for each axis and an integrated safety board. All safety features comply with the stringent requirements of the highest safety category, SIL3/PLe.
Stäubli offers additional products such as HE, Cleanroom, Super Cleanroom, ESD, and Stericlean to designate special robot versions, which deliver the same high level of performance that has come to be expected of the standard models.
Stäubli's TX2 line is offered in six model series: TX2-40, TX2-60, TX2-60L, TX2-90, TX2-90L and TX2–90XL, and is capable of handling loads between 2-15 kilos, with a reach between 515 and 1,450 mm.
Companies in this article