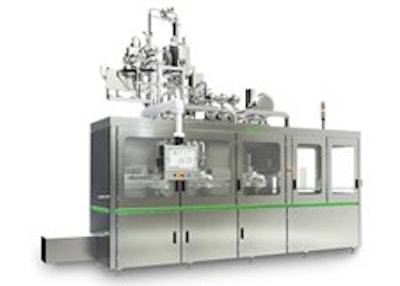 The EL2+ features five fillers and a completely redesigned servo system that uses motors instead of pneumatic cylinders. so as to double capacity by reducing cycle times nearly 40% – from 2.4 sec. to 1.5 sec.
The infeed is also improved with a mechanical cam system and servo motors that control the opening of the packages as well as package grippers, all by one single cam movement. This increases reliability, durability and requires less overall machine maintenance.
In addition, the EL2+ increases product safety and quality with a fully-automated cleaning system of the filling zone that ensures the same level of hygiene at the start of every production cycle. A steam system can be added to the valve cluster system made with aseptic membrane valves, which enables sterilization of the entire filling system before each production.
Other options for the EL2+ include a straw applicator for several different straw types, for easy on-the-go consumption.
Companies in this article