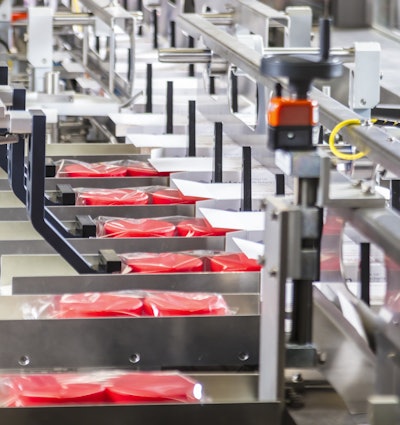 The innovative packaging line includes a FT120 Flow Wrapper and the IMSL End Load Cartoner. After the products have been flow wrapped, they enter the End Load Cartoner. The compact-footprint IMSL incorporates a Rockwell Automation iTRAK unit to create a fully integrated product infeed system that uses minimal product transfers. To further enhance the IMSL's footprint, the products are side loaded into the cartons via a Linear Motion Loader.
The system is set-up with a single point of access with remote connectivity for online fault diagnostics and "Factory Talk Analytics" for system data collection. The system incorporates the latest integrated connectivity Industry 4.0 technology to communicate seamlessly over a common network and protocol. This enables the installation of customized systems that deliver enhanced productivity, rock solid security and operational intelligence, with live data output to drive smarter management decisions. This flexible, intelligent system allows for an wide range of possible system configurations to meet every conceivable packaging need.
Factory Talk View Point is utilized for local connectivity to link each machine, providing system control and performance data locally at each of the machines HMI's. Factory Talk Analytics is utilized for remote connectivity, to transmit data remotely to a secure machine cloud to provide real-time machine and system data that can be viewed remotely from around the globe.
Companies in this article