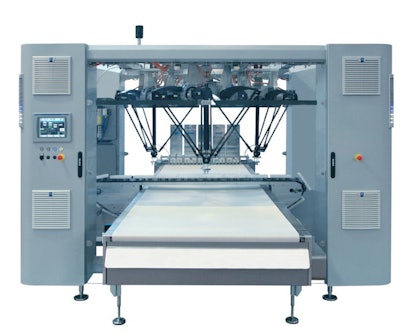 The Cama Triaflex robots are guided by an artificial vision system, which guarantees automatic recognition of the various products, according to their type. The products are conveyed to the different robots to be loaded into either in their final package or cross-fed onto the infeed of another packaging machine.
Taking advantage of the high reliability and flexibility of the Cama systems, this application offers many advantages to the user:
cost reduction, thanks to single axis control;
higher system modularity;
reduced footprint of electrical cabinet;
simpler hardware and software system.
Previous systems available in the market needed every robot to be equipped with its own axis control to allow communication between the single robotic units and the "part-counter" system (intelligent system of products counting and distribution to the other robots).
This Multi Delta robotic loading unit can be combined with primary packaging systems or to other Cama packaging machines, providing customers turnkey solutions.
Companies in this article