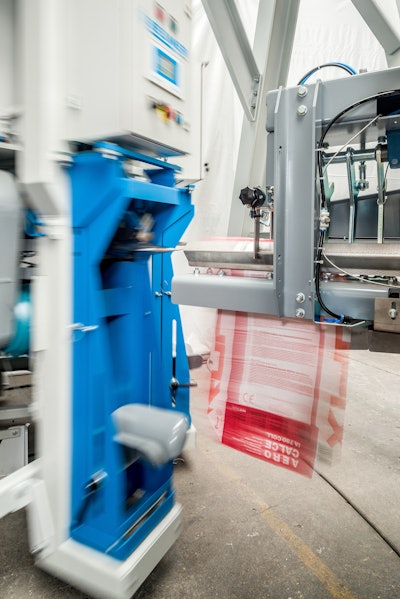 With its standardized modular design, the new bag placer provides numerous set-up options. The user can set it up at any angle by adding an optional turntable for example. This reduces the required floor space considerably. The system is equipped with an ergonomic control terminal. The improved Human Machine Interface concept makes controlling the bag placer easy and intuitive. It can also automatically adjust to different valve bag formats.
The drive unit and the gripping arm are driven automatically by servomotors, ensuring precise positioning and energy efficiency. The gripping system and the application unit apply the bag from the bag ream safely onto the filling spout. The drive technology used in combination with the electric coupling of both servo drives of the gripping arm and the application unit minimizes the number of necessary mechanical components.
The operator can use this version for PP, PE and paper valve bottom bags. Bag lengths of 350 to 650 mm and bag widths of 230 and 550 mm are possible as well as valve widths of 80 to 160 mm. The new system can handle 3,000 bags/hr., while the high-capacity version can handle up to 6,000 bags.
With the bag placer for flat valve bags the operator can chose between two versions, depending on which side they prefer. In order to considerably reduce its footprint, the bag placer can be set up at an angle of up to 60 deg. by using the optional turntable. The BEER bag placer for flat valve bags is used for woven PP and PE bags with lengths of 600 to 800 mm, widths of 400 to 550 mm, and valve widths of 125 to 150 mm. Its capacity is up to 2,400 bags/hr.
Companies in this article