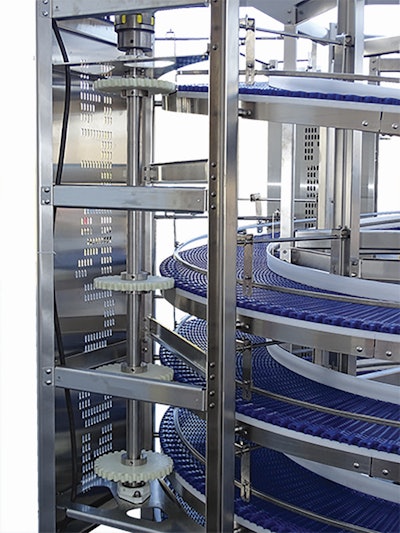 Sanitary design features include:
Open construction for readily accessible cleaning, inspection and maintenance
Corrosion resistant stainless steel construction and plastic belt
CIP design with open belt surface to easily washdown from any angle
Self-draining, bent frame construction to eliminate water pooling
Solid UHMW guide rails
Ability to withstand up to 1500 psi washdown pressure
Moderate use of corrosive chemicals
USDA compatible conveyor belt.
All the features included in the washdown spiral make this a perfect conveyor system for CPGs running cases, jars, trays, pouches or cups in the food and beverage, health and beauty, household, or pet food industries.
The conveyor's edge driven design includes sprockets that drive the chain in multiple locations which distributes the force across the entire length of the chain; not from just one location. With this design, the chain only needs to be strong enough to pull the load between any two sprockets instead of the entire length of the conveyor. This means the spiral can be built much taller, allowing for higher elevation changes, and that there is reduced belt tension allowing for longer belt life, as well as increased load-carrying capacity.
The edge driven conveyor belt is made from USDA compatible plastic material, bright blue for easy wear identification and breakage visibility, and modular allowing for replacement in sections instead of the entire belt.
Companies in this article
Videos from Nercon Conveyor Systems