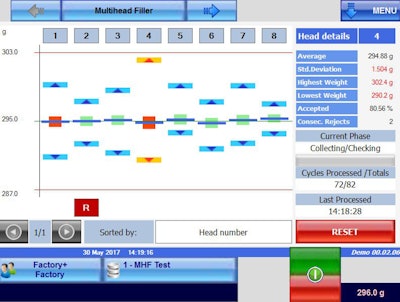 With the cost of food ingredients increasing it is becoming more critical for food processors to make sure they are not giving product away. Conversely, they also need to ensure that underfilled containers are not entering the marketplace. By adding a filler head monitoring capability to their checkweighers, they can see what is happening in real time and make adjustments before the fill levels become problematic. The Versa controller is used to control the chain, slack-belt, and powered weigh table frames in the Versa checkweigher series.
The checkweigher controller screen provides "at-a-glance" status of all the filler heads, highlighting any critical situation, high and low weight ranges, and average and standard deviation. Statistical info and warning status for individual filler heads also can be communicated to remote systems connected by the system's Modbus protocol.
Further, alarms can be set for high average or standard deviation, high range, low accepted percent, and high consecutive rejects. This capability is ideally suited for products that are filled in a liquid or viscous state including condiments (mayonnaise, mustard, ketchup, etc.), sauces, peanut butter, dairy foods, personal care products and others.
Companies in this article