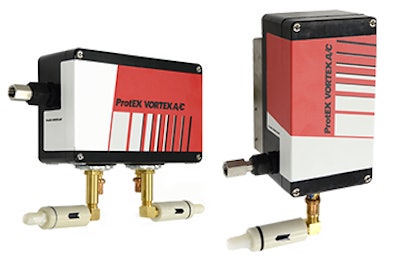 The newly ATEX-certified ProtEX Vortex A/C models 8115, 8125, 8135 and 8170 are certified to the latest EN ISO 80079-36:2016 standard and fill the need for safe enclosure cooling in hazardous locations. These Vortec models offer 900, 1500, 2500 or 5,000 BTU/hr. cooling capacity to suit the differing needs of each enclosure and facility.
Vortec's ProtEX Vortex A/C units operate in environments up to 175 deg. F. They are designed to cool enclosures quietly rather than adding to industrial noise, with 62 dBA operation, 78% quieter than typical vortex coolers. The design of the units ensures that no ambient, dirty, or humid air enters the cabinet. They require no wiring and can be easily installed in minutes. A mechanical thermostat turns the unit on only when necessary.
All four of the Vortec ProtEX models have a small footprint to fit on all enclosures and in confined areas; and can be mounted to the top or side of the enclosure. The Vortex A/C units have already been successfully cooling a wide range of industrial environments from petrochemical plants to food manufacturing.
The Vortec ProtEX Vortex A/C units gained safety certification for compressed air temperatures of up to 120 deg. F. and are approved for a Temperature Class of T3.
Companies in this article