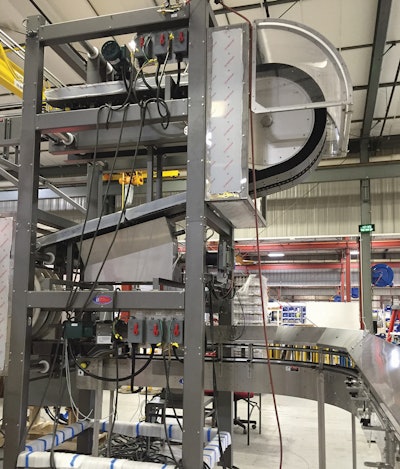 Two parallel gripper designs were mounted with the gripper chains opposing each other on a support structure. This allowed the opening to be adjusted throughout the system by a single handwheel. An operator can easily adjust the compression for various container sizes using a simple digital readout.
Each gripper rinser was a lowering design that received containers at elevations exceeding 10 ft. and delivered them down to the packaging line at just over 3 ft. using an "S" configuration. Disks of 34 in. in diameter are used in each of the turns, reducing tension on the chains, to allow for line speeds up to 300 ft/min. or 600 parts/min.
Multi-Conveyor partnered with Simco-Ion using its HS air nozzles to provide a powerful stream of ionized air to clean the containers and neutralize charges to prevent debris from re-attracting to the containers. Multi-Conveyor provided the manifold and vacuum system to contain and collect the debris through a cleanable filter system. Energy saving Paxton ionizing rinsers were used on the second gripper to tackle debris using a patented air nozzle manifold and high efficiency blower.
Gripper rinsers can be provided in the S-configuration lowering type as designed for these two applications; are also available in upswing or downswing designs that infeed and discharge products at the same elevation; or in C-style configurations that result in the product elevation changes with inverted orientation at discharge.
Gripper conveyors can also be provided without the rinser systems to simply move products from one elevation to another, or to invert product either within the gripper (to provide cap sterilization) or to discharge inverted product to another conveyor.
Companies in this article