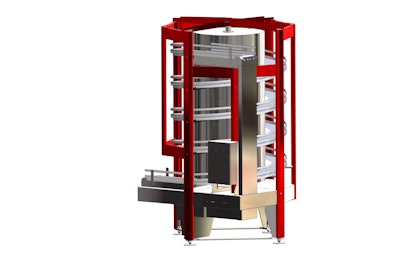 Original low-tension design with added modularity allows users to add or remove sections as needed. Circulating the center cylinder allows for smooth and seamless starts and stops that are perfect for products that tip easily, such as cereal and candy boxes, glass and plastic bottles, cans, bagged and wrapped products, cartons, and totes will all run smoothly on these spirals.
Other features include space-saving elevation, lowering and accumulation of product, while maximizing floor space. Incline or decline in a clockwise or counterclockwise direction is customizable. Belt speeds run at up to 300 ft./min. Minimized maintenance with a chainless belt means less belt wear and no messy chain lubrication.
Low tension is accomplished by circulating the middle cylinder along with the belt allowing for greater throughput than high-tension spirals.
Companies in this article