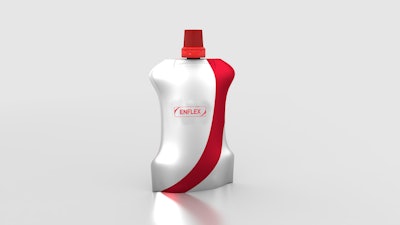 Volpak, producer of horizontal form/fill/seal (hf/f/s) equipment, introduces the VOLPAK SI-440 horizontal pouching machine. It is the result of the company's intense R&D work and incorporates multiple innovations in electronics, controls, etc.. aiming to be one of the most flexible and versatile horizontal machines in the packaging market today. The SI-440 adapts to various needs, from projects requiring a large production of small- and medium-sized formats (from ¼ litre with production up to 200/spm), to projects that require large-format packaging (up to 2 litres, liquid or solid products). The zip-close stand-up packaging is the one that best adapts to market tendencies, since it meets the expectations of both manufacturer and consumer.
Enflex SDT-14
In the making of this machine, the engineers of ENFLEX followed two basic objectives: simplicity and total operation guarantee. The result is the STD-14, an entry-level horizontal stand-up pouch especially created for the cosmetic, food and chemical industries. The STD-14's flexibility allows it to also manufacture stand-up pouches with special shapes, zipper closing systems or fitments. The STD-14 was designed for liquids, juices, isotonic beverages, yoghourts, etc.
ENFLEX F-14 Duplex
The F-14 and F-17 models complete ENFLEX's range of packing machines for towelette sachets. Each one of these machines counts on two commercial versions: the simplex model that produces one sole sachet/cycle and the duplex model for the simultaneous production of two sachets.
For this line of machines, ENFLEX has developed a packaging process consisting of six phases, whereby the two principal functions are carried out in a simultaneous manner. The machine handles two reels: one for the weaving of the towelettes and one for the plastic material of the sachet, which will later contain the towelettes. After passing through an unwinder and being extended, cut and folded, the towelettes are introduced into the sachets and impregnated with the chosen liquid (perfume, hydrating cream, disinfectant, etc.), as they are packaged into sachets, which are subsequently sealed.
Companies in this article