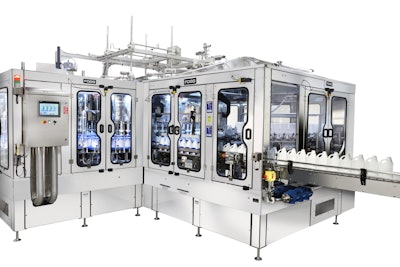 Stainless steel door frames offer a fresh new look, while still allowing visibility of rinsing and filling activity from the outside. The stainless steel frame supports all hardware and hinges, allowing for thermal expansion without cracking, and allowing for tighter tolerances and better fume containment. The new enclosure promotes positive pressure within the filler due to the tighter seal.
This new door style enables chemical fumes from the rinsing machine to be better contained inside the enclosure, and then evacuated outside the building through an exhaust system, or chemical scrubber. This also allows for better fluid containment during enclosure washes, keeping the filler's outside surroundings dry and safe from any splashing.
Fogg enclosure doors are completely removable with quick and easy "lift-off" hinges. Simply flip up the cable guard, which runs across the top of the enclosure door, and unplug sensor wiring. Once the wire is free, the door can be lifted up and off its hinge for easier maintenance and changeovers. The spring loaded cable guard and simple lift-off hinges make this process tool-free and faster than ever. Safety switches on enclosure doors are best in class and Fogg also offers logo etching on enclosure doors for a more personalized machine.
Companies in this article