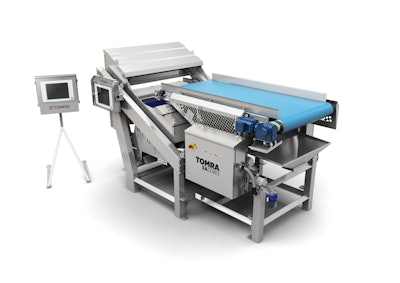 Both models have been specifically designed to improve product quality and safety, while providing minimal product waste and maximum uptime.
A key feature of the TOMRA 5A is superior foreign material removal; the sorter effectively discards items such as corn cobs, wood, stems, plastics, glass and even stray golf balls. This process minimizes the risk of food contamination further down the line and leads to improved product quality.
Furthermore, the TOMRA 5A has unrivaled potato quality sorting controls. This provides processors with the opportunity to recover product which is not good enough to accept, but at the same time not bad enough to send to waste. The leftover product can be sent to re-peel or trimming lines. It can even be made into alternative end products, such as potato flakes.
The TOMRA 5B incorporates TOMRA's smart surround view technology, which features high-resolution cameras and high intensity LEDs, providing superior product appearance and 360-degree inspection. This results in improved product quality, by identifying each object to improve color and shape detection. The technology also leads to improved foreign material removal, while ensuring product quality and a reduction of false rejection rates.
Companies in this article