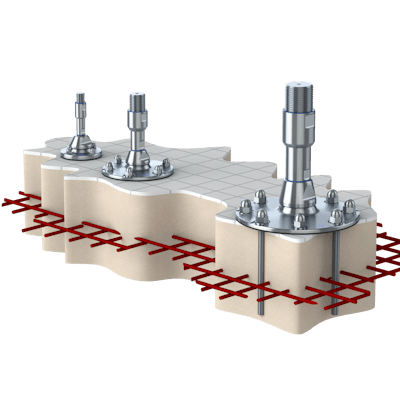 The seismic leveling feet from NGI are new and innovative products capable of withstanding earthquakes, due to their ability to absorb combinations of vertical and horizontal vibrations during earthquakes.
The NGI seismic leveling feet are available in different sizes, and by combining different foot plate sizes with different spindle and thread heights, users will get leveling feet matching any possible and thinkable needs.
NGI has developed a seismic product configurator that combines data of the risk for earthquakes in certain geographical areas with data of our customers' specific equipment. The result of this detailed analysis will help users select the optimal solution in terms of safety and minimizing the risk of damage to machinery and equipment caused by earthquakes.
Our seismic leveling foot has been developed and tested using the Finite Element Method (FEA) and is complying with the governmental regulations of California and New Zealand.
The feet are constructed in a hygienically design ensuring fast and easy cleaning and at the same time minimizing the risk for product contamination. In this way food safety and quality are maximized, and the risk for expensive rejections or withdrawal of products is minimized. Additionally, they are designed in accordance with the 3-A and EHEDG hygienic standards and certified in accordance with USDA hygienic standard.
Companies in this article