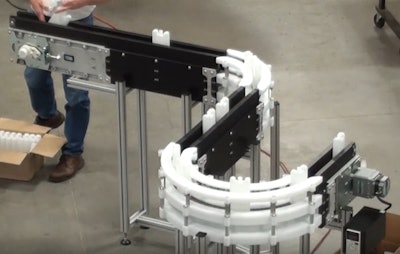 Conveyors can be designed with one or numerous opposing turns that run the gamut from 5 deg. to 180 deg. Money can be saved by using one drive motor on long running conveyors with or without several opposing lateral turns. Reconfiguring when needs change is another money saving feature of the DynaCon radius turn conveyors.
All DynaCon conveyors are constructed of modules that connect and reconnect to form systems of varying lengths and profiles. Conveyor modules can be configured and reconfigured, allowing for conveyor system flexibility. In addition to lateral turns, conveyor configurations can includeflat or horizontal styles and inclines and declines used in creating angle and z-style conveyors. The DynaCon modular conveyor system is offered in a variety of widths ranging from 4 to 60 ft.
The DynaCon line includes reconfigurable conveyors, parts separators, box filling and accessories that boast easy reconfiguration when needs change.
Companies in this article