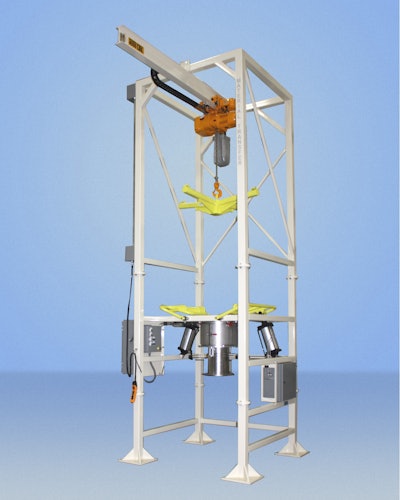 Unit features an electric chain hoist and Spider-Lift™ bag lifting frame. Unit features the exclusive heavy-duty Flo-Master™ bulk bag massaging system to promote material flow, and the Flo-Lock™ gate for partial bag discharge. Unit includes the stainless steel Seal-Master™ round bag spout access chamber with "gull-wing" doors and a custom flanged, 316L stainless steel discharge transition with level sensor. System features the exclusive stainless steel Sure-Seal™ pneumatic bag spout clamping system for dust-tight discharge. Equipment painted using a custom white finishing system and includes a NEMA 12 control enclosure. System includes pneumatic piping utilizing 304 stainless steel rigid air lines and stainless steel pneumatic fittings.
Systems are custom designed for your specific application requirements.
Companies in this article
Videos from Material Transfer & Storage, Inc.