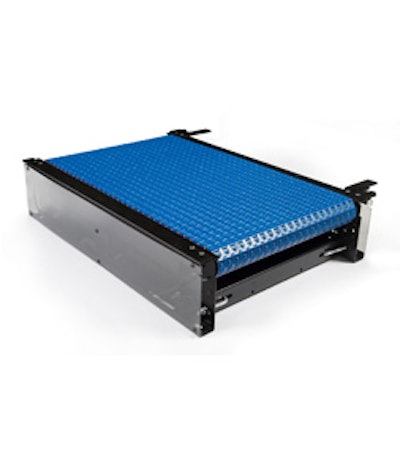 The MODSORT station features the System Plast 2253RT roller top belt, which allows it to transfer and divert packages based on the sphere's vector speed and direction while also featuring a 1-in., on-center sphere array to allow for very small packages to be diverted. The station can divert on the fly or stop and divert at a true 90-degree angle, and is ideal for polybags and small packages while also easily handling boxes.
MODSORT stations can be placed end to end to create a medium-rate sorter or integrated with conveyors to create transfer stations within conveyor systems. Customization is possible for picking and packing stations within the modern distribution center. Additionally, retrofitting the station into existing conveyor systems is also possible.
In addition to reducing shipping and handling costs associated with using a tray to transfer polybags, MODSORT can help achieve energy savings between 50 and 60% compared to traditional conveyors when integrated with a motorized roller-based conveyor system.
Companies in this article