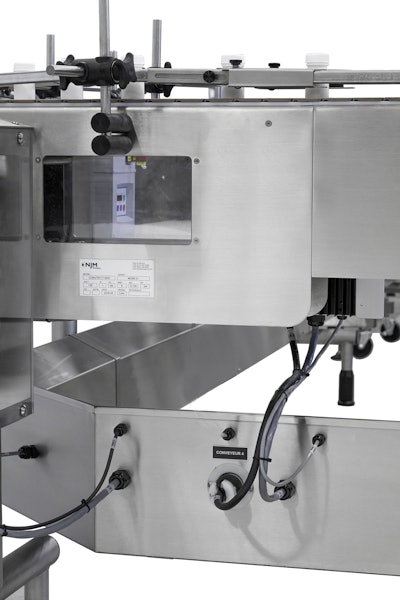 The TEF Conveyor and TEF Accumulation Table ease inspection for trapped product, making line clearance during product changeovers and shift changes quick and thorough. The TEF Conveyor and TEF Accumulation Table increase uptime and help eliminate foreign product cross-contamination to reduce the risk of product recalls, litigation and settlements.

The system handles round, square and rectangular bottles made of plastic or glass that are up to 2500 cc in size. With a top speed of 100 ft. (30 m)/min., the TEF Conveyor can be used to transport bottles through unscramblers, desiccant inserters, roll-up counters, cottoners, induction sealers, cappers, retorquers and other machines to increase productivity and help maintain final product quality.

The TEF equipment features a tabletop chain that can be lifted from the top without releasing tension on the belt to inspect inside the conveyor body. With no internal shelf, the TEF Conveyor and TEF Accumulation Table enable viewing from the top to the bottom chain with no hidden areas. The internal structure includes only sloped and rounded surfaces – no flat bars – so rogue tablets fall on the bottom chain to be easily found during line clearance.

The bottom tabletop chain is easily lowered via chain release handles to expose the complete length of the chain from idler to discharge to help find and remove trapped product. An electrical safety interlock prevents operation when the chain is lowered. With each handle releasing five or six rollers at a time, one person can drop the chain and clear the line in less than 10 min. with no tools required. Compared to traditional conveyors that require tools to hammer out a pin to expose a section of the chain for inspection purposes, the TEF equipment reduces clearance time by up to 75%.


Companies in this article