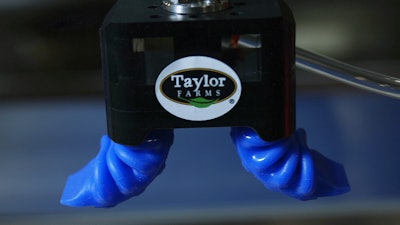 A new robotic end effector inspired by the movement and flexibility of octopus tentacles is being tested for full-scale implementation at salad and produce packager Taylor Farms Pacific in Tracy, CA. Comprising soft robotic "fingers," the new gripper tool is the first to be able to handle items as delicate as a cherry tomato and then immediately pick up an item of a different size, shape, and weight, without tool changeover or reprogramming.
"This is the most exciting project I've worked on in my career," says Alan Applonie, President of Taylor Farms Pacific. "What's different about soft robotics is the actual fingers, the grippers, that go on the end of the arm, that are now able to handle and manage strawberries and other delicate fruits and vegetables without damage. It actually looks like you detached an arm off a robot and put octopus fingers on the end of it."
Taylor Farms first saw the technology, from Soft Robotics Inc., in June 2015 at the United Fresh Convention. So impressed was the produce packager with the concept and its potential for the $27 billion fresh-cut fruit and vegetable market that in December 2015, it invested $1 million in Soft Robotics. Currently, Taylor Farms' Tracy plant is integrating two robots on one of its production lines, which it anticipates will be operational by year-end 2016.
Among the advantages of Soft Robotics' grippers for produce: They are washdown-capable, enhance food safety and sanitation, significantly reduce labor, and offer extreme flexibility for product handling. The endgame for Taylor Farms is the use of the technology across all 14 of its U.S. facilities—a four- to five-year endeavor, says Applonie.
Automation becomes an option
Taylor Farms is a family-owned business with 12 operating companies throughout North America that serves customers in the foodservice, retail produce, and retail deli segments of the fresh business. Its products include bulk value-added produce, retail bagged salads and vegetables, and ready-to-eat meals and snacks, among others.
"Taylor Farms is a leader in innovation," says Applonie. "Dedicated to being North America's favorite maker of salad and healthy fresh foods, we focus on innovation by consistently developing new products and improving production methods. Taylor Farms is grounded in a commitment to quality with products harvested, packaged, and shipped at the peak of freshness."
At its 231,000-sq-ft Tracy processing facility, Taylor Farms operates 30 production lines dedicated to fruits, vegetables, and prepared foods. The challenges faced by Taylor Farms in its packaging operations have included sanitation and labor requirements.
Says Director of Business Development for Soft Robotics Dan Harburg, "Taylor Farms employs something like 15,000 people across their plants in the U.S. Labor is becoming a really big challenge for them. They are having a harder and harder time finding people to work in the plants. When you have a situation where your labor force has to be highly trained to maintain sanitary standards, but you've got new people coming in every day and hundreds of people in your plants, it becomes really difficult to maintain sanitation and ensure that people aren't damaging product."
Applonie explains that automation had never been a viable option for Taylor Farms' packaging lines because of the turnover in its product offerings. "It has been difficult to utilize automation with our deli and prepared food offerings because of the complexity and frequent changes of product sets," he says. "Product lines can change anywhere from two to three times a year with our deli customers. They're constantly looking for the latest on-trend offerings, especially in line with the seasonal changes."
Seeing Soft Robotics demonstrating the picking and packing of seven different types of fruits and vegetables interchangeably at its booth at the United Fresh Convention, Taylor Farms immediately grasped the implications of the technology for its own packaging lines. Says Applonie, "My mind has kind of exploded with the possibilities of where it could be used in our plant."
Octopus-like fingers employ pneumatics
The technology behind soft robotics originated with a Harvard chemist, George Whitesides, who was researching robotic designs based on the way octopi look and how they interact with the world—"for example, a robot that could squeeze its way underneath a gap in a door and then get up and keep walking," explains Harburg.
The result from Whitesides and his team of scientists was a concept of patterning channels into rubber materials and using that as a way to get an actuator that would bend and move around. "You could then link up a couple of those 'tentacles' and build a small robot that could walk across the surface of a table and crawl under a gap in a door," says Harburg. "One of the things they showed in an early research paper was a robot that could pick up an egg and then pick up a live mouse. I don't think they had any idea what they had stumbled upon."
In 2013, Soft Robotics licensed the intellectual property from Harvard and since then has filed a number of patents on the technology. Initially, it explored a range of applications, including medical devices. But as Harburg explains, as it began investigating opportunities in packaging, automation, and product handling, it found an excellent match between the technology and the needs of the market for a robot that could hold and grip highly unstructured objects.
The gripper is made from a soft elastic polymer that is patterned in such a way that when air fills the channels inside the tool, the fingers wrap around and grip objects. When the air is removed, the fingers peel back and open up. "Essentially, by driving air in and out of this tool you can make something that has no mechanical or electrical parts; it's just a really smartly patterned polymer material that can adaptively grasp whatever is put in front of it within a range," says Harburg.
That's important: It can adaptively grasp whatever is put in front of it. That means one grip force will work across a wide range of products—from a strawberry to a pack of breaded chicken breasts, for example. Because the gripper distributes the force evenly across the surface of the object when it grips, the profile settings don't have to be changed much, if at all, even when the packaging is modified. According to Harburg, in the case of a significant change in product size and weight, programming can be done from the robot controller, with no tool changes required.
"We believe in a future of flexible and adaptable automation that doesn't care exactly what the product or packaging is," says Harburg. "We can still handle it and still manipulate it and still pack it."
Picking and packing salad kits
At Taylor Farms, the two robots being trialed are installed on a salad kit packaging line. The robots are part of a JLS Automation Talon picking-and-placing system, equipped with two ABB Robotics IRB-360 FlexPicker delta-style robots with Soft Robotics grippers and vision systems. Explains Harburg, the ABB robot was selected for its high speed as well as its sanitary design and wash-down capability. He adds that the salad-kit application is only one of probably 15 opportunities within that one plant.
When the Talon becomes operational, bagged salad ingredients will be fed to the line from large totes or boxes to the picking and packing cell via a Dorner conveyor. Meanwhile, a conveyor will carry a case into the robot-picking zone. The ingredients will then be picked and packed into the case by the robots. Says Applonie, when fully implemented, the system will use multiple robots to handle different salad ingredients to assemble a full salad kit in minimal time.
"The goal of the Soft Robotics system is to have little to no changeover time between products or tasks," says Applonie. "The flexibility of the gripper allows handling of many different product types without needing to know exactly what the tool is picking. If the vision system can recognize the new product, and it is within a reasonable weight and size range of the previous product, no changeover time will be needed."
One of the processes that Soft Robotics is still experimenting with on the line is material handling. "Because Taylor Farms has so many different contents that can be fed into the kits, you have to get the items presented to the robot at the right time for the tool to pick them up and put them in a box," Harburg explains. "You have to have singulation. We're exploring a lot of strategies for how we might be able to do that."
To meet sanitary requirements, the gripper is made from FDA-compliant materials and can easily be removed for cleaning. The tool can also be sanitized in place.
Automation enhances quality, redeploys labor
Ultimately, the driver for the implementation of Soft Robotics technology at Taylor Farms is that it takes manual labor out of the equation—an advantage both in terms of food safety and quality, and the optimization of the company's workforce.
As Harburg explains, manual handling of produce is a delicate process that can easily result in product damage. "Human operators can mark, scrape, or scratch products," he says. "If it happens in the packaging center, and then the product goes on a truck for a few days or a week, and then sits in the store, a small nick can result in damaged product that goes to waste. In addition, there are all kinds of sanitary issues associated with having thousands of people in these plants handling products that are going directly into people's mouths.
"It's an extremely delicate operation that, until now, could not be automated. The industry has had to throw massive amounts of labor at the problem, and unfortunately, labor is more expensive." With Soft Robotics' pneumatically driven grippers, products in a range of complex sizes, shapes, and weights can be gently picked and placed—at speeds faster than 1 product/sec.
Once operators are removed from the packaging line, they can then be deployed in more technical, and less tedious, tasks. "It's a watershed moment in terms of converting lower-paying jobs into higher-paying jobs, being more accurate and precise, and eliminating the ergonomic risks in the plant related to repetitive motion," says Applonie. "What we envision is one employee being able to supervise four or five robotic arms, keeping them dialed in and doing the task they need to do.
"This is an extremely exciting project, not just to me, but also to the entire company. I am specifically very excited because I envision this technology and the outcomes it will bring to be very impactful to our business and industry. In the future, repetitive and mundane tasks will likely be done robotically, and our work will become much more technical."
Companies in this article