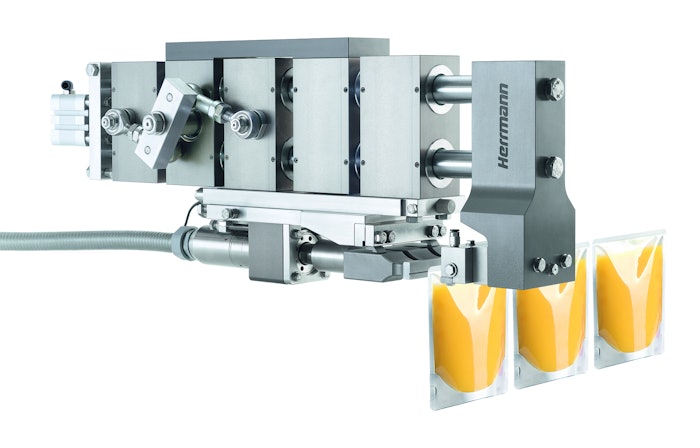 Freely programmable widths between the sealing bars, i.e. Sonotrode and anvil, cater to both rotary tables and longitudinal processing packaging machines, including multi-track lines.
Ultrasonics is particularly reliable and suitable for large production volumes, with liquid, pasty, chunky, and fibered products, such as pet food or convenience food and with thermally sensitive products, such as beverage, sauces, cheese, chocolate, and pharmaceuticals. The major benefits over the widely used heat sealing process are the hermetic weld seals, despite seal area contamination, and the faster cycle time.
The top seal module can easily be integrated into packaging machines in various ways thanks to its mechanical interfaces. Mounting can optionally be performed by one of the two side surfaces or by the topside of the top seal module. The drive interface may be positioned either on the left or on the right. This provides key advantages, particularly for multi-track machines.
The transfer of movement and force build-up are integrated in the top seal module, while the drive for the closing movement can be provided by the machine builder or Herrmann Ultrasonics. Robust and precise guiding rails ensure the required parallel travel of weld tools. Separation of the drive movement from build-up of force using pre-loaded pneumatic cylinders allows for operation of the module at high cycle rates, normally exceeding the speed capability of the current packaging machine. The weld force does not have to be built up after contact; instead the weld process can start directly upon contact of the sealing bars. In connection with the optionally available proportional valve, the device provides a high degree of flexibility for setting the weld force for different package materials and different packaging dimensions.
Companies in this article