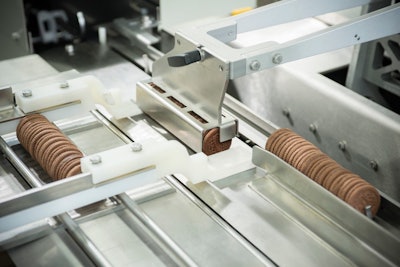 The modular system consists of a loader, a transfer unit, a feeder and the Pack301LS (Length Slug) horizontal flow wrapper. The Pack 301 LS has been developed as an addition to the Pack Series of horizontal flow wrappers, which range from entry level, hand-fed machines to fully automated solutions. It is designed to help manufacturers meet the increasing market demand for biscuit wrapping together with premium product quality.
The system, including a Smart Measuring Loader for slug portioning, has been designed specifically to ensure gentle product handling for delicate and brittle biscuit-type products, even at higher speeds. Transfer points from the loader to the cross chain, from the cross chain to the infeed chain and further into the film tube generally pose the greatest risk for product damage and breakage. Due to the full-servo execution, the Smart Measuring Loader allows for smooth placement of the portioned biscuits into the cross chain.
Designed for ease of operation and with the concept of Total Productive Maintenance (TPM) in mind, the system has been laid out to be accessed from all sides for smooth operation, fast and easy cleaning, and low maintenance effort. The cross chain features a spring loaded chain tensioner with visual feedback, allowing the operator to easily check whether there is optimal chain tension or it should be adjusted. Machine parts in contact with the product are made of stainless steel, meeting today's hygienic standards. The open design allows crumbs and rejected products to fall through or be removed easily. All of these features add to operator friendliness and boost machine uptime and availability.
All aspects of the system are designed to minimize downtime and enable stable output at high production speeds. To increase effectiveness, the complete biscuit feeding and packaging solution is operated by a single Human Machine Interface (HMI), enabling operators to monitor all process functions precisely. In addition, it allows quick format changes and thus enhances production flexibility. Whenever a product is missing, the machine and the infeed stop to avoid empty packages. Thanks to optimized interfaces, the integrated system can be provided with all required upstream equipment including vibratory channels, offering a complete solution from a single supplier.
Companies in this article